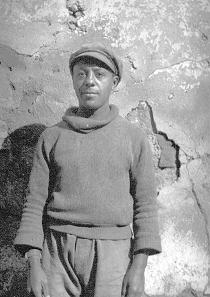 Biography
Thornton, Ralph
. b. June 20, 1902, Pennsylvania, African American; Father William Grant Thornton; High School education; No prior military experience; Single; Pressman; CP 1934; Received Passport# 378849 on March 26, 1937 which listed his address as 2406 Bertrand Street, Pittsburgh, Pennsylvania; Sailed April 10, 1937 aboard the
Rotterdam
; Arrived in Spain on May 5, 1937 (April 27, 1937); Served with the XV BDE, Washington BN, MG Co, Section 3 and Lincoln-Washington BN; Transferred to HQ of IB at Albacete, clerk with Commissariat in American Section; Served at Brunete, Quinto, and Belchite; Returned to the US on December 20, 1938 aboard the
Ausonia
; d. February 22, 1984, Chicago, Illinois.
---
Sources:
Sail; Scope of Soviet Activity; Washington; RGASPI Fond 545, Opis 6, Delo 1001, ll. 10-14; African Americans; L-W Tree Ancestry.
---
Code A Box 2, Folder 23, 177_197042 [List of Names] Moscow Fond 545, Opis 5, Delo 197, ll. 42, Oct. 1938. This is a page from Folder 197: Album of 15th International Brigade Presented to the American Communist Volunteers of the 15th Brigade by the Communist Party of Spain. On a two page spread entitle Declaration of the American Negro Comrades eighteen individuals signed the second page.
---
Biography: 
Ralph Thornton  b. June 20, 1902, Pennsylvania, African American, Single, Pressman, CP 1934, received passport# 378849 on March 26, 1937 which listed his address as 2406 Bertrand Street, Pittsburg, Pennsylvania, Sailed April 10, 1937 aboard the
Rotterdam
, Arrived in Spain on May 5, 1937, Served with the XV BDE, Washington BN, Lincoln-Washington BN, Served at Brunete, Quinto, Belchite, transferred to HQ of IB at Albacete, Clerk with Commissariat in American Section, Returned to the US on December 20, 1938 aboard the
Ausonia
, d. February 1984. ~ Chris Brooks
---
Photographs:
Ralph Thornton, filing clerk in Commissariat, December 1937. The 15th International Brigade Photographic Unit Photograph Collection ; ALBA Photo 11; ALBA Photo number 11-0633. Tamiment Library/Robert F. Wagner Labor Archives. Elmer Holmes Bobst Library, 70 Washington Square South, New York, NY 10012, New York University Libraries; RGASPI Fond 545, Opis 6, Delo 1001, ll. 10.
---