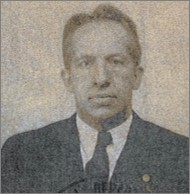 Biography
k-Wardlaw, Ralph Wilkinson b. February 6, 1907, Milledgeville, Georgia; Father Joseph Coachman Wardlaw February 3, 1875 (1876-1947), mother Edna Roberta (Powell) Wardlaw (1874-1972); Graduated from Tech High School in 1922; Completed his bachelors and masters degrees at the University of Georgia, was an active member of the Delta Kappa Epsilon fraternity, pursuing a Doctorate at Columbia University before he volunteered; ROTC, US Army Reserve officer; Married; Instructor of English and Public Speaking at CCNY; CP 1935; Received Passport# 495536 on June 28, 1937 which listed his address as 500 West 140th Street, NYC; Sailed in February 15, 1937 aboard the President Roosevelt; Arrived in Spain via Agullana on February 21, 1937; Served with the Lincoln-Washington BN; Reported KIA, April 3, 1938 near the Corbera-Gandesa road during the Retreats; George Watt recalls that Wardlaw and another rifleman remained as a rearguard to cover Watt's group as they attempted to make their way back to Republican lines.
---
Siblings: brothers Joseph Powell Wardlaw (1900-1984), Donald C. Wardlaw (1903-1930), Roy Malcolm Wardlaw (1911-1916).
---
Sources: Scope of Soviet Activity; BN 58 Retreats; Figueres List; RGASPI; USSDA 2:1023, 61:0600; "Ralph W. Wardlaw Killed Fighting With Loyalists," Constitution, Atlanta, Georgia, November 28, 1938 (clipping); "Ralph Wardlaw's Death In Spanish War Revealed," Journal, Atlanta, Georgia, November 29, 1938 (clipping); George Watt, The Comet Connection, New York: Warner Books, 1990. p. 104 (death of Wardlaw).
---
Photograph: Ralph W. Wardlaw, Passport Photograph, 1937.