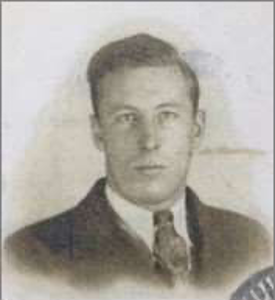 Biography
k-Steele, Raymond Albert. (Steel; Burns, Raymond); b. January 19, 1913, Pleasonton, Michigan; Father Frank O. Steele (b.1884-1948), mother Mary Estella Reams (1880-1954); Horse Trainer, Cook, and Seaman; IWW; Sailed December 26, 1936 aboard the Normandie; Arrived in Spain on January 6, 1937; Served with the XV Brigade, Lincoln Battalion, MG Co.; Served at Jarama and Brunete; Killed in action July 15, 1937, Brunete.
---
Siblings: Brothers Harvey Orlando (1897-1956), Alburn I. (1902-1931), Francis August (1905-1992), sisters tta Mae (1895-1965), Rosa B. Steele (1900-1989), Jennie S. (1901- 1998), Edith Mary (1903-1998), Emmaline E. (1915-1957).
---
Sources: Sail; Scope of Soviet Activity; Americans; Lincoln (under Ray Steel); RGASPI; USSDA 2:0955, 60:0591; Matt White "Wobblies in the Spanish Civil War" ASR (Anarcho-Syndicalist Review), 42/3,Winter 2005-6, p. 44.
---
Photographs:
Ray Steele, Passport Photograph, 1936; and unidentified German volunteer, Charles Nusser and Ray Steele; and in behind the Machinegun in a group photograph before Brunete; Canadian D. P. Stevens is on the right;
---