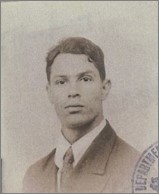 Biography
k-Berman, Raymond b. December 16, 1916, New York, New York (Alternative birth Months October or November); Russian American; Father Harry Berman (?-1935); Salesman; YCL; Received Passport# 496293 on February 3, 1938 which listed his address as 1013 Hudson Avenue, North Bergen, New Jersey; Arrived in Spain via Agullana on February 20, 1938; Missing in action March 1938, Gandesa, during the Retreats.
---
Sibling: Howard Berman (c. 1914-?).
---
Source: Scope of Soviet Activity; Figueres List; Inventory North Americans. Code A
---
Photograph: Raymond Berman Passport photograph, 1938.