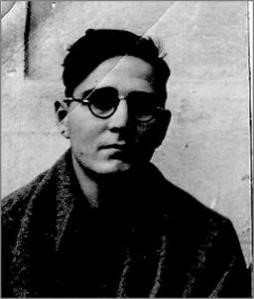 Biography
Cloke, Richard b. January 24 (23), 1916 (January 25, 1914), Seattle, Washington; Father Colonel H. E. Cloke US Army, mother Mrs. H. E. Cloke (family lived in Hampton, VA); Attended the University of California, Berkeley; Single; Student and Journalist; CP April 1936 and YCL 1936, American Student Union; Received Passport# 25807, San Francisco series, on March 26, 1937 which listed his address as 1738 Milvia Street, Berkeley, California, and 245 Carey Street, Hampton, Virginia [This was his parents home, Cloke never lived there]; Sailed March 31, 1937 aboard the Aquitania; Arrived in Spain on April 10, 1937; Served with the XV BDE, Washington BN, MG Co., Ammo carrier; Later Plana Mayor and the Lincoln-Washington BN; WIA July 20, 1937 at Mosquito Hill, Brunete by an explosive bullet in the back; Hospital Palace Hotel Madrid 5 days, English Hospital Huete 1 month; After recovery in September 1937 he was posted to the English Hospital in Huete Valdeganga until January 12, 1938, then to American Hospital at Villa Paz from January to March 1938; Returned to the front first with the 35th Division Sanidad and later with the 15th Corps Sanidad from March to October; Ambulance Driver; Served at Jarama, Brunete, Aragon, and Ebro Offensive; Returned to the US on December 20, 1938 aboard the Ausonia; WWII Civilian shipyard Worker; d. October 13, 1998, Northridge, Los Angeles, California.
---
Sibling: brother Marshall Cloke, LT US Army.
---
Source: Sail; Scope of Soviet Activity; Cadre; Washington; RGASPI Fond 545, Opis6, Delo 873, ll. 25-31; Pacific NW; (obituary) The Volunteer, Volume 21, No. 1,Winter 1998-99, p. 19; (obituary) Los Angeles Times, October 17, 1998 [online summary]; L-W Tree Ancestry. Code A
---
Photograph: Richard Cloke in Spain, RGASPI Fond 545, Opis 6, Delo 873, ll. 25.