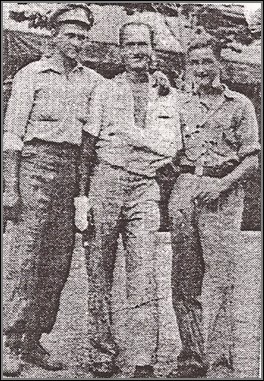 Biography
Fein, Richard Meyer (Fine; Fein, Meyer; Richard, Dick; Mike); b. June 27, 1909, Russia; Russian American; Single; Salesman and Lawyer; CP 1930 (1932) Daily Worker agent; Domicile 174 E 92nd Street, NYC and 833 Empire Boulevard, Brooklyn, New York; Sailed May 15, 1937 aboard the Georgic; Arrived in Spain via Espolla on June 2, 1937; Served with the XV BDE, George Washington BN; Wounded during training when a rifle bolt blew back into his face, after recovery he was transferred to the Regiment de Tren; Last unit XV BDE, Lincoln-Washington BN, served in fortification and medical assignments; Was in a French Concentration Camp after leaving Spain; Returned to the US on March 3, 1939 aboard the Manhattan; Served on the National Board of the VALB from the early 1940s through the mid-1950s; d. March 27, 19xx.
---
Sources: Cadre; Figueres List (under Meyer, Fein); RGASPI; (obituary) The Volunteer; L-W Tree Ancestry.
---
Photograph: Dick Fein (center); Photograph VALB/ALBA.