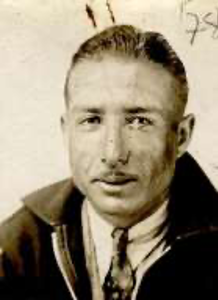 Biography
Schweinfest, Robert Charles. b. May 28, 1910, Los Angeles, California (Hamilton, Ohio); High School education in Anaheim, CA; Construction Worker and Mechanic; March-October 1932 worked in the Gorky Tractor Works; Returned to Baltimore, MD on City of Norfolk on November 9, 1932, passport #463965 issued in DC; CP November 1936 and Spanish CP; Received Passport# 27062, San Francisco series, on April 23, 1937 which listed his address as Los Angeles, California and 124 Janss Street, Anaheim, California; Sailed May 7, 1937 aboard the American Farmer; Arrived in Spain on May 29, 1937; Served with Usine No. 1; Albacete Auto Park; Service Sanitaire; XV Brigade, Zapadores (Engineers), Later Deposit Company; Served at Brunete and the Ebro Offensive; Accused of desertion in February 8, 1938 and arrested in Port Bou, detained in Castelldefels, agreed that the detention was just and received a pardon; Valledor recommended expulsion from Spain; Returned to the US on December 20, 1938 aboard the Ausonia; WWII Tech 3, 1942-1945; d. July 1989 in Guadalajara, Mexico.
---
Sources: Sail; Scope of Soviet Activity; RGASPI Fond 545, Opis 6, Delo 983, ll 78- 92; L-W Tree Ancestry.
---
Photograph: Robert Schweinfest in Spain, RGASPI Fond 545, Opis 6, Delo .