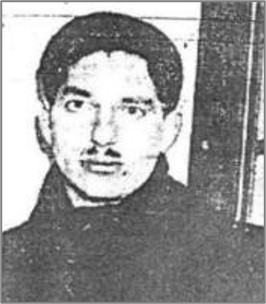 Biography
Colodny, Robert Garland
b. August 5, 1915, Phoenix, Arizona; Attended the University of California, Los Angeles (UCLA); Unspecified military service; Single; Student and Chemist; YCL; Received Passport# 366583 on February 11, 1937 which listed his address as 5558 Ellis Avenue, Chicago, Illinois; Sailed February 20, 1937 aboard the
Ile de France
; Arrived in Spain on March 17, 1937; Served with the XV BDE, Washington BN; WIA Brunete; After recovery was attached to the Chemical Warfare School as an instructor and interpreter; Rank Soldado; Returned to the US on February 16, 1938 aboard the
Lafayette
; WWII US Army, 4th Interceptor Command, San Francisco; Briefly assigned to Camp Shenango, Greenville, PA; Later to the Advance Command Headquarters, Aleutian Islands; d. March 21, 1997, Pittsburg, Pennsylvania, buried at Jefferson Memorial Park, Pleasant Hills, Allegheny County, Pennsylvania; Spoke English and French.
---
Source:
Sail; Scope of Soviet Activity; Cadre; Americans; Repatriation List (1/31/1938, ll. 100); RGASPI; USSDA 2:0457; 53:0369; ALBA 211 Robert G. Colodny Papers; Good Fight C; Harriman; Find-a-Grave#58697370; Robert G. Colodny, T
he Struggle for Madrid: The Central Epic of the Spanish Conflict, 1936-1937
; and with Dashiell Hammett,
The Battle of the Aleutians: A Graphic History, 1942-1943
. Code A
---
Biography
Robert Garland Colodny (1915-1997) was born in Phoenix, Arizona. In 1936, after having been expelled from Columbia University for refusing to take certain courses, Colodny became a chemistry student at the University of Chicago; there he expressly sought out recruiters for the International Brigades. In February 1937, Colodny sailed for Spain on the
Isle de France
. By late summer, he had been shot between the eyes, contracted gangrene of the brain, and was expected to die. But he recovered, and though bandaged, weak, and blind in one eye, was sent back to a front in the Aragon Mountains. It was not long before he was stricken with a high fever, however, and in March 1938, Colodny was granted permission to leave Spain on a sealed train to Paris. He sailed for the U.S. in April, partially paralyzed and blinded on the left side. Despite his health history, Colodny joined the U.S. Army in 1941, and served for four years, stationed in the Aleutian Islands in Alaska in Army Intelligence alongside fellow-sergeant Dashiell Hammett. With Hammett, Colodny produced a Company newsletter,
The Adakian
, designed to boost troop morale, and co-authored a book commissioned by the Army,
The Battle of the Aleutians
; they also co-wrote and broadcast a radio program. Colodny earned his doctorate in history and philosophy from the University of California, Berkeley in 1950. His Masters Thesis on the Spanish Civil War was later published as
The Struggle for Madrid
(1958). In 1959, Colodny joined the history faculty of the University of Pittsburgh. Two years later, Pennsylvania State Representative John T. Walsh accused Colodny of being a Communist sympathizer for having made a statement supporting the Cuban revolution. This was one of the last anti-Communist investigations in the nation's history. His career in jeopardy, Colodny fought a year-long battle to clear his name. In addition to his appearances before the House Un-American Activities Committee (HUAC), where he was cleared after stating that he had been misquoted on Cuba and denying membership in the Communist Party, Colodny underwent a separate investigation by the University of Pittsburgh. Ultimately Chancellor Edward Litchfield stood behind Colodny, declaring the University's strong commitment to protecting academic freedom. Colodny taught at the University of Pittsburgh until his retirement in 1984. Colodny remained politically involved with progressive causes, including the Civil Rights and anti-Vietnam War movements, throughout his life. His expertise in the many aspects of the history of science led to his activism for a number of environmental causes. Colodny was a member of VALB, regularly contributing to the group's publication, The Volunteer, and dedicating his energy especially to preserving the memory and lessons of the Spanish Civil War. He also served on VALB's historical preservation committee. In addition to his voluminous scientific writing and book reviewing, Colodny wrote and lectured extensively on the political implications of the Spanish Civil War. He also edited, consulted and contributed to many book, radio, film, and television projects on the subject, including work on
Death in the Olive Groves: The Lincoln Brigade in the Spanish Civil War
by Arthur Landis; and
Prisoners of the Good Fight
by Carl Geiser. Colodny died in 1997 of colon cancer. Publications on the Spanish Civil War include:
The Struggle for Madrid: The Central Epic of the Spanish Conflict, 1936-37
(New York: Paine-Whitman, 1958);
Spain: The Glory and the Tragedy
(New York: Humanities Press, 1970);
Spain and Vietnam: The Fight for Freedom
(New York : Veterans of the Abraham Lincoln Brigade, 1967) - Courtesy of Tamiment Library, NYU.
---
Robert Colodny Interview
, ALBA V 48-032, July 24, 1986, Manny Harriman Video Oral History Collection; ALBA VIDEO 048; box number 23;  folder number 3; Tamiment Library/Robert F. Wagner Labor Archives, New York University.
---
Photograph:
Robert Colodny, Harold Gruskin, and Sandford Land taken on their return to the US, Clipping.
---