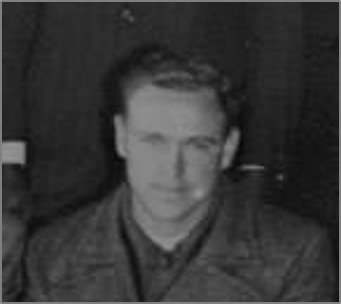 Biography
Curtis, Robert Lee b. February 3, 1916, Sequatchie, Tennessee; Single; Waiter and Mechanic; Received Passport# 457535 on July 8, 1937 which listed his address as Sequatchie, Tennessee; Sailed July 14, 1937 aboard the Aquitania; Arrived in Spain via Agullana on July 25, 1937; Service in Spain not specified; Imprisoned in Casteldefels in May 1938; Returned to the US on December 15, 1938 aboard the Paris; WWII US Army Air Corps, 440 Bomb Squadron, enlisted April 1942, rank SSGT; d. March 9, 1966, buried in Chattanooga National Cemetery, Chattanooga, Tennessee.
---
Source: Sail; Scope of Soviet Activity; Figueres List; RGASPI; L-W Tree Ancestry; Find-a-Grave#2978052. Code A
---
Photograph: Robert Lee Curtis from a group photograph taken aboard the Paris on his return to the US.