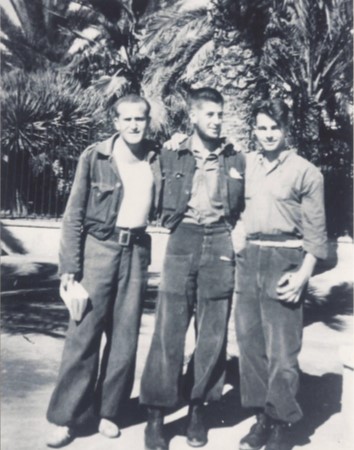 Biography
Steck, Robert. b. 1912, Rock Island, Illinois; Jewish; POW; Attended Ambrose College; Single (Married); Theater Worker; CP 1936, unit org.; Domicile 1280 Walton Avenue, Bronx, New York; Arrived in Spain on March 9, 1937; Served with the Regiment de Tren, Commissario; Lincoln-Washington Battalion; Rank Soldado; Reported MIA Retreats, Gandesa; Captured; Freed August 25, 1939; Returned to the US on September 5, 1939 aboard the Ile de France; WWII US Army, Intelligence; d. January 30 (31), 2007, Green Valley, Arizona; Steck worked with Carl Geiser to prepare biographical sketches of the American POWs.
---
Sources: Cadre; Battalion 58 Retreats; RGASPI; USSDA 2:0952, 60:0522; ALBA 104 Robert Steck Papers, ALBA AUDIO Robert Steck Audio Collection; ALBA PHOTO 104; Robert Steck Photographs; (obituary) The Volunteer, Volume 24, No. 1, March 2007, p. 19.
---
Photograph: Ed Lending, Doug Male, and Bob Steck in hospital after Belchite, Ed Lending Collection.