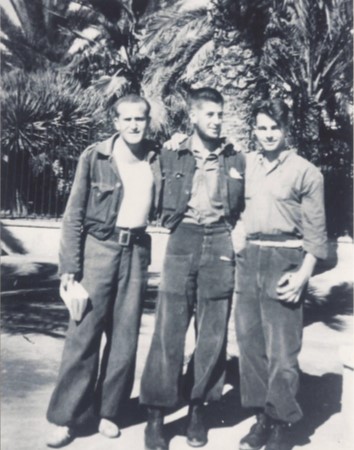 Biography
Steck, Robert. b. 1912, Rock Island, Illinois; Jewish; POW; Attended Ambrose College; Single (Married); Theater Worker; CP 1936, unit org.; Domicile 1280 Walton Avenue, Bronx, New York; Sailed February 1937 aboard the Ile de France; Arrived in Spain on March 9, 1937; Served with the Regiment de Tren, Commissario; Lincoln-Washington Battalion; Rank Soldado; Reported MIA Retreats, Gandesa; Captured; Freed August 25, 1939; Returned to the US on September 5, 1939 aboard the Ile de France; WWII US Army, Intelligence; d. January 30 (31), 2007, Green Valley, Arizona; Steck worked with Carl Geiser to prepare biographical sketches of the American POWs.
---
Sources: Cadre; Battalion 58 Retreats; RGASPI; USSDA 2:0952, 60:0522; ALBA 104 Robert Steck Papers, ALBA AUDIO Robert Steck Audio Collection; ALBA PHOTO 104; Robert Steck Photographs; (obituary) The Volunteer, Volume 24, No. 1, March 2007, p. 19.
---
Biography: Robert Steck was born in 1912 in Rock Island, Illinois. One of five brothers, he inherited a keen awareness of society's injustices from his father, a fruit and vegetable wholesaler and member of the Freethinking Society, leading Steck to a lifelong commitment to public service and political activism. While attending St. Ambrose College in Iowa, Steck discovered the theater and, after a stint as a truck driver for his father's business, landed in New York City, where he worked on the staff of New Theater Magazine alongside editor Herb Kline (who would later fight with Steck in the Spanish Civil War). Here Steck wed his theater skills to social activism, joining Studio One's Theater of Action, an offshoot of the WPA-sponsored Workers Laboratory Theater. In the summer, Steck worked at Camp Unity, an interracial, socialist adult camp, first as an actor, then as director of activities. By January 1937, Steck's Camp Unity associates Yale Stuart and Philip Bard had departed for Spain to fight in the Spanish Civil War (SCW). Steck, already active in efforts for the Republican cause, soon followed. He sailed on the Ile de France in February 1937, where he joined the first group of U.S. International Brigades volunteers required to walk from France over the Pyrenees to get into Spain (their passports had been stamped "not valid for travel in Spain"). In the following months, Steck served in the International Brigades with the First Regiment de Tren, where he was elected political commissar; worked with British writer Ralph Bates, putting out the magazine  Volunteer for Liberty; headed the Tarazona Base Cultural Commission, adapting his theater experience to the political and social realities of the war and creating skits performed off the back of trucks (known as "Buffoons on Trucks"); and was rifleman, runner and battalion scout for the Third Lincoln company. On April 9, 1938, during the retreat from Gandesa, Steck was captured by Italian fascists, who would have executed him were it not for Mussolini's order to exchange International Brigaders for captured fascists. Steck was first kept for two days in complete darkness at the bottom of a cistern, then transferred to the prison at San Pedro de Cardena, where he spent the following seventeen months. While in prison Steck organized an "Institute for Higher Learning" and, together with fellow-prisoners Hy Wallach and Sidney Rosenblatt, put out a handwritten newspaper, "Jaily News," illustrated by British prisoner Jimmy Moon. They made only a single copy of each issue, concealing it beneath the floorboards when it wasn't being surreptitiously circulated among the prisoners (Steck later smuggled two issues home under his clothes). Meanwhile, Steck's father joined the Friends of the Prisoners committee in the U.S. to work for his son's release. It was only after the war had ended that the State Department finally negotiated the release of a group of eleven prisoners that included Steck. Back in the States, Steck married Josephine (Jo) Savage. He also quickly connected with the recently-formed Veterans of the Abraham Lincoln Brigade (VALB), chairing the Committee for the Release of the International Prisoners in Spain. Steck returned to Camp Unity as director of activities in the summer of 1940, finding a welcome refuge for himself and other veterans, and in the autumn and winter continued his social work at community centers in the Bronx and Philadelphia. He worked as well for a short time as a welder at Todd Shipyards. Steck joined the U.S. Army in 1943, serving until 1946 in the Medical Corps at Fort Meade, in the Specialized Training Program at Georgetown University, and in Intelligence training (in Russian) at Camp Ritchie. His deployment overseas was repeatedly put off, however, and Steck became convinced that this was due to discrimination based upon his participation in the SCW. After an honorable discharge, Steck again returned to Camp Unity as director of activities. He left in 1952 as a result of differences over policy. In 1956, after running a travel agency for a year, Steck formed a communally-oriented children's camp, Camp Calumet, with friend and Camp Unity associate, Sophie Saroff. In 1967, Steck became a full time fifth grade teacher at P.S. 40 in the South Bronx, then taught high school history and social studies in New Jersey, New York, and later in Connecticut, where he and Jo settled in Lime Rock. He retired from teaching in 1978, affording him more time to devote his energies to a broad spectrum of social issues, including nuclear disarmament, the Nicaraguan revolution, the struggle in El Salvador, and justice for Palestinians. For years, he spent every Saturday standing in a Vigil for Peace on the Salisbury Green in Connecticut. Steck remained a core member of VALB, serving twice on the Executive Board of the National Council, and chairing the Prisoner Historical Committee. From 1979 through 1986, he worked closely with veteran Carl Geiser on Geiser's Prisoners of the Good Fight, organizing numerous fundraising endeavors, conducting extensive research, and traveling internationally to locate American ex-prisoners. From his research and interviews, Steck wrote 120 biographical profiles that underlay Geiser's account of the Americans' experience in Spanish prisons. During this period Steck also used his research to write and publish a pamphlet on Walter Fairbanks Grant, a prisoner killed in Spain; and an article for  Jewish Currents about Sol Leiserowitz, another prisoner who disappeared.  Prisoners of the Good Fightwas published in 1986. ~ Courtesy Tammiment Library, NYU.
---
Photograph: Ed Lending, Doug Male, and Bob Steck in hospital after Belchite, Ed Lending Collection.