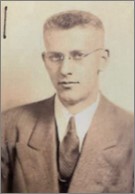 Biography
k-Greenleaf, Robert Webster
b. October 14, 1914, New Bedford, Massachusetts (Washington, District of Columbia); Father Mark L. Greenleaf E. Palermo, Maine? Deceased; Mechanic; CP; Received Passport# 559680 on January 5, 1937 which listed his address as 431 Kenyon Street North West, Washington, District of Columbia (Philadelphia, PA); Sailed January 9, 1937; Served with the XV BDE, Lincoln BN, Driver; Served at Jarama; Killed during the BN's first action on February 23, 1937, an abortive night attack; He was shot through the head while assisting in the evacuation of John Scott.
---
Sources: Scope of Soviet Activity; Americans and Canadians Killed in Spain Complete list to November 15, 1937; "Penna Soldiers Are Enroute From Spain." Standard-Sentinel (Hazleton, PA), December 8, 1938, p. 4. Code A
---
Photograph: Robert Webster Greenleaf, Passport Photograph, 1936.