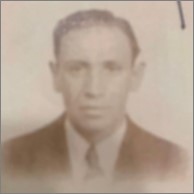 Biography
k-Wolk, Robert
b. July 7, 1901, Kovna, Russia, naturalized July 13, 1923, Supreme Court of New York; Russian American; Father Joseph Wolk (deceased), mother Sarah Luskin (1882-?) both Russian immigrants; Prior Military service in the US Navy; Single; Taxi Driver; CP; Received Passport# 358447 on December 22, 1936 which listed his address as 410 East 72nd Street, NYC; Sailed December 26, 1936 aboard the
Normandie
; Served with the XV BDE, Lincoln BN, Adjutant commander MG Company.; After the attack on February 27th he was promoted to Adjutant Co. 1; Mortally wounded on March 14, 1937 at Jarama; Died in hospital March 23, 1937, Wolk spoke with Robert Merriman in the hospital and briefed him on the Battalion, Merriman noted in his diary that "Wolk came with wound in the shoulder and gave report of the front since I left. It seemed that he was getting along all right when he died during the night. Held funeral for him on the 24th." Buried in Murcia in Tombe 14 on March 25, 1937.
---
Siblings:
brother Barney Wolk (1909-1992) and sister Bessie Wolk (1908-?).
---
Sources:
Scope of Soviet Activity; Merriman Diary; RGASPI Fond 545, Opis 2, Delo 128, ll. 14; Opis 6, Delo 1015, ll. 40 fiche with dod; LW Tree Ancestry. Code A1
---
Photographs:
Robert Wolk. Passport photograph 1937, and Photograph from the
Daily Worker
.
---