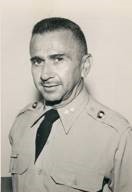 Biography
Isenberg, Robert Woodrow
b. March 4, 1913, Huntingdon, Pennsylvania; Father Oscar Isenberg (1888-?); Mother Blance Kaphart (1887-?); 1 year High School and 1 year military school; 4 years US Navy; Single (Separated, Rachel Dyke Isenberg 1912-2002; Married December 19, 1936, Norfolk, VA – April 23, 1940, Desertion, 1 child); Seaman (NMU); Anti-Fascist; Received Passport# 454355 on July 22, 1937 which listed his address as 503 West 23rd Street, NYC and 502 A Middle Avenue, Wilmerding, Pennsylvania; Sailed July 28, 1937 aboard the
Queen Mary
; Arrived in Spain via Espolla on August 8, 1937; Served with the XV BDE, Mackenzie-Papienau BN, Company 1; Deserted from the Aragon on September 17, 1937 with Henry Shapiro, Richard Brown, and Granville Walker Paine, they stole the Mac-Pap ambulance and were arrested at the French border; Sentenced to death with sentence remanded; Memorandum to BDE from Mac-Paps indicates Nelson Fishnelson, Frederic Faulkner, and Isenberg were absent without leave as of September 14, 1937; Last unit XV BDE, Mackenzie-Papineau BN, Sanidad; Rank Cabo (promoted February 24, 1938); Served at Fuentes de Ebro, Teruel, Seguro de los Banos, Retreats (Azure, Caspe, Gandesa), Ebro (Cruz del Ebro, Sierra Pandols, Sierra Caballs); Returned to the US on March 3, 1939 aboard the
Manhattan
; WWII US Army; d. April 17, 1942, Philadelphia, Pennsylvania; He returned to the BDE and served well, was cited for carrying ammunition under heavy fire and for bringing a wounded comrade back from enemy lines.
---
Siblings:
sister Helen Isenberg (1910-?).
---
Source:
Sail; Scope of Soviet Activity; Figueres List; Pay; RGASPI Fond 545, Opis 6, Delo 508; Opis 6, Delo 915, ll. 18-25; Opis 6, Delo 849, ll. 4, Special List for Personnel Service, Deserters List of Those Now in Spain, January 16, 1938; L-W Tree Ancestry. Code A
---
Photographs:
Robert Isenberg in WWII, L-W Tree Ancestry, and below Robert Woodrow Isenberg and Henry Shapiro (deserters), November 1937. The 15th International Brigade Photographic Unit Photograph Collection ; ALBA Photo 11; ALBA Photo number 11-0979. Tamiment Library/Robert F. Wagner Labor Archives. Elmer Holmes Bobst Library, 70 Washington Square South, New York, NY 10012, New York University Libraries.
---