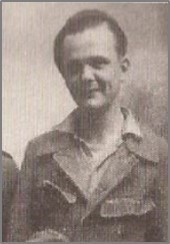 Biography
Zimmer, Robert Joseph b. 1916; Croatian American; 8 years US Navy; Single; Seaman; CP 1936 (1935); Domicile listed as CP Waterfront Section, NYC; Arrived in Spain on September 13, 1937; Served with the Artillery, 11th Regt., 2nd Group, 14th Battery (John Brown Battery), 155mm Guns; Returned to the US in 1938; WWII Armed Forces.
---
Sources: Cadre; RGASPI Fond 545, Opis 6, Delo 1019, ll. 30-31; South Slav.
---
Photograph: Robert Zimmer from a group portrait. Photograph from Harry Fisher.