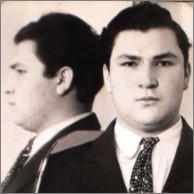 Biography
Robinson, Digby b. 1907, Kentucky; Mechanic; Convicted of attempted burglary and sentenced to 7.5 years in prison in 1932, trained as a florist in prison, paroled December 17, 1935; Arrived in Spain via Espolla on August 21, 1937; Hospitalized; Detained in Barcelona in April 1938; Detained in Castelldefels; Reported KIA Ebro Offensive.
---
Sources: Figueres List; RGASPI Fond 545, Opis 3, Delo 32, p. 37; Momryk; Petrou; Beeching. Code A
---
Photograph: Digby Robinson, photograph San Quentin Prison, 1934, L-W Tree Ancestry.