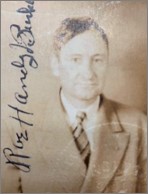 Biography
k-Burkett, Roe Handy (Ernest); b. June 8, 1898, Comanche, Stevens County, Oklahoma; Father John R. Burkett (1864-1927), mother Viola Maynard (1870-1916); Prior military service with the US Navy, enlisted during WWI, included 3 years in China; Single; Oil Field Worker, Driller, and Construction Worker; Worked as a seaman in the early 1920s; CP 1936; Received Passport# 409913 on May 11, 1937 which listed his address as 1305 East 14th Street, Oklahoma City, Oklahoma; Sailed May 20, 1937 aboard the Berengaria; Arrived in Spain on June 2, 1937; Served with the XV BDE, Lincoln-Washington BN; Rank Soldado; Killed in action March 10, 1938, Belchite; Also reported as September 15, 1937, Belchite.
---
Siblings: brother Guy Burkett (1891-1969), sister Nannie Lee Burkett (1903-1999). Source: Scope of Soviet Activity; Cadre; BN 58 Retreats; L-W Tree, Ancestry.
---
Photographs: Roe Handy Burkett. Passport Photograph 1937, and Seaman's Protection Certificate application 1923.
---