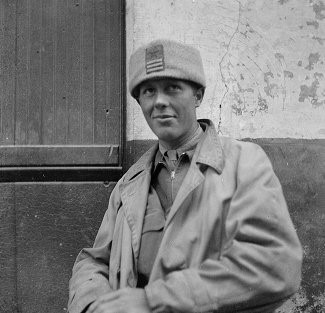 Biography
Dart, Rollin Jones b. March 18, 1906, Boston, Massachusetts; Father Ray Almon Dart (1878-?), mother Dora Snow Jones Dart Kingsley (1878-?); Graduated from Boston University with a BA; Prior military service in the US Army Air Corps, Pilot, 3 1/2 years; Divorced; Office Manager; CP 1934; Received Passport# 4714, Chicago series, on January 6, 1937 which listed his address as 5704 Harper Avenue, Chicago, Illinois; Sailed February 6, 1937 aboard the Paris; Arrived in Spain on February 24, 1937; Served with the 86th BDE, 20th BN, Co. 2, Co. Commander, on the Cordoba Front; Transferred to the XV BDE, Washington BN, Commander Co. 2; Later to the Mackenzie- Papineau BN, Commander during training; BDE, Staff officer; Sent on an arms purchasing trip in Europe; Reentered Spain via Massanet on June 27, 1938; Returned to the US on October 25, 1938 aboard the Ile de France; Listed his return address as Barclay Hotel, NYC; Married Myra H. Dart; d. April 23, 1955, Miami, Florida, cremated.
---
Siblings: Marjorie Dart (1903-?), half-brother Roy Almonde Dart (1923-1997).
---
Source: Sail; Scope of Soviet Activity; Americans; Figueres List; Mac-Paps; L-W Tree Ancestry. Code A
---
"Happy Landing" by Lieutenant Pete Laly
,
Nuestra Voz
,
Organo de la 86 Brigada
, No. 2, 13 de Julio 1937, p. 3, reprint The Volunteer Blog, posted November 1, 2019.
---
Photograph:
Captain Rollin Dart, Brigade Staff, December 1937. The 15th International Brigade Photographic Unit Photograph Collection; ALBA Photo 11; ALBA Photo number 11-0637. Tamiment Library/Robert F. Wagner Labor Archives. Elmer Holmes Bobst Library, 70 Washington Square South, New York, NY 10012, New York University Libraries.