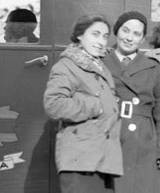 Biography
Weiner, Rose
b. February 28 (26), 1908, Lyubar, Zhitomir, Ukraine, Russia; To the US September 25, 1921 aboard the SS
Finland
under the name Ruchla Wajner, Naturalized on February 6, 1933; Russian American; Jewish; AMB; Father Joseph Weiner (1884-?), mother Rachel Weiner; Completed nurses training at Montifoiore Training School in 1932, 1.5 years college; Single; Nurse and Book Keeper in Hospital; Received Passport# 375659 on March 17, 1937 which listed her address as 3540 Rochombera Avenue, NYC and Care of B. Kavasik, 964 East 178th Street, Bronx, New York; CIO, Association of American Nurses 1932, CP 1936, CP of Spain 1937; Sailed March 18, 1937 aboard the
Normandie
; Arrived in Spain in April 1937; Served with the Medical services, Servicio Sanitario 35th Division, Santa Coloma de Farnes Hospital; Returned to the US on December 31, 1938 aboard the
President Harding
.
---
Siblings:
brother David Weiner (1915-?).
---
Sources:
Sail; Scope of Soviet Activity; RGASPI Fond 545, Opis 6, Delo 1556, ll. 5-6, Carnet Spanish CP, ll. 7, Biografia de Militantes; ALBA 116 Rose Weiner Papers; ALBA PHOTO 116 Rose Weiner Photographs. FILE Under 1556; L-W Tree Ancestry.
---
Biography:
Rose Weiner (1908-1995) was born in Lyubar, Russia into a Jewish family. As a child Rose experienced the harsh conditions of the Russian Revolution and counter-revolution while she, her mother and siblings awaited word from her father who had already migrated to the United States. On September 25, 1921, Rose and her family arrived at the Port of New York before moving to Milwaukee. In order to continue her schooling, Weiner moved back to New York and attended the Montefiore Hospital School of Nursing from 1929-1932. After graduation, Rose accepted a position at Montefiore Hospital. In March 1937 she sailed to Spain as an American medical volunteer in support of the Loyalist forces in the Spanish Civil War. Weiner worked as a floor nurse in a convalescent hospital, of which she was soon given charge. She then spent several months working on the front lines before taking charge of a surgical hospital. During her last six months in Spain, Weiner served as chief nurse of a 1,500-bed surgical and medical hospital. Rose returned to New York in 1939 and continued work at Montefiore Hospital. Although she applied for nursing positions in the American Red Cross, Army Nurse Corps and War Manpower Commission during WWII, Weiner was never granted any of these positions, on the grounds that she did not meet physical requirements. Soon after her attempts to serve in the war, Weiner left Montefiore and began work for New York City as a Public Health Nurse. Meanwhile, she worked toward her Bachelor of Science degree at Hunter College. Weiner later worked as a school nurse until she retired in the 1970s. - Courtesy of Tamiment Library, NYU.
---
Photograph:
The Nurses of 15th Brigade Dec 37 Rose Weiner, Norah Temple, Toby Jensky, Anna Taft, Sana Goldblatt, Selma Chadwick, and Andrea and Leonicia. 15th International Brigade Photographic Unit Photograph Collection; ALBA Photo 11; ALBA Photo number 11-1000. Tamiment Library/Robert F. Wagner Labor Archives. Elmer Holmes Bobst Library, 70 Washington Square South, New York, NY 10012, New York University Libraries.
---