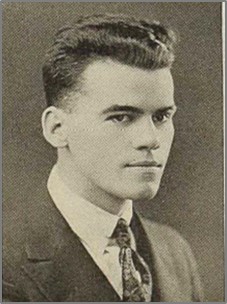 Kennedy, Roy James (Solomonick; Kennedy, Jay Richard); b. January (June) 6, 1897, Penfield, Rochester, New York; Father George Edward Kennedy (1863-1912), mother Rossetta Rose A. Morley (1863-1904); WWI, enlisted 3 months Coastal Artillery; Married Frances Battelle Fenton (1900-?) on January 6, 1926 in Pasadena, Los Angeles, California; CP 1935; Received Passport# 28817, San Francisco series, on May 28, 1937 which listed his address as 150 South Orange Grove Avenue, Pasadena, California; Sailed June 16, 1937 aboard the Aquitania; Arrived in Spain via Espolla on June 30, 1937; Repatriation list indicates that he arrived in Spain and was repatriated in August in order to resume his teaching career; Was in Almansa while he was in Spain; Returned to the US on September 12, 1937 aboard the Ausonia; d. July 2, 1986, Mendocino, California; Additional spouse listed in Ancestry.com Alice Kenneday (1904-?). 
---
Siblings:
half-siblings Madeline Kennedy (1889-?), Olive A. Kennedy (182-?), Robert C. Kennedy (1898-?).
---
Photograph: 
Roy James Kennedy, Cornell class of 1921, Ancestry L-W Tree.
Source
Sail; SACB; RGASPI Fond 545, Opis 6, Delo 849, ll  22, List of American Comrades that have been Repatriated as per October 15 1937; Ancestry L-W Tree; Email from Julia Newman.  Code A
---