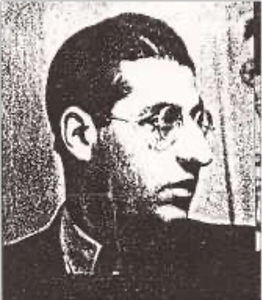 Biography
Schneiderman, Rubin. (Ruby); b. April 21, 1915, Brooklyn, New York; Jewish; Graduated from Osing High School in New York; Prior military service through Citizen's Military Training Center, Fort Dix, New Jersey, four weeks each summer, 1934-36; Single; Ladies Garment Shipping clerk and Organizer for clerk's union; CP 1932 (none); Received Passport# 364705 on February 1, 1937 which listed his address as 1273 Stebbin Avenue, Bronx, New York and 1703 Union Street, Brooklyn, New York; Sailed February 6, 1937 aboard the Paris; Arrived in Spain on February 15, 1937; Served with the XV Brigade, Lincoln Battalion, Co. 2, Section 1, Group 2; Later in Co. 1, Jarama; WIA February 27, 1937 in hands and arm; Recovered and served at Brunete; WIA; Later Master Sergeant in charge of Americans at a rehabilitation center; Released by battalion; Repatriated medical; Returned to the US on September 24, 1937 aboard the DeGrasse; WWII US Army, Stateside service, NYC guarding Queen Mary and Queen Elizabeth in the harbor; Ft. Smith, Arkansas, POW guard, Rank PFC, acting SGT; d. June 11, 2001, Charlottesville, Virginia.
---
Sources:
Sail; Scope of Soviet Activity; Americans; Lincoln; Voros-Jarama; RGASPI Fond 545, Opis 6, Delo 849, ll 26, List of American Comrades that have been Repatriated as per October 15 1937; USSDA 2:0906, 59:0855.
---
Photographs:
Rubin Schneiderman; From a group photograph at Jarama, ALBA, Paul Burns Collection. Rubin Schneiderman. Veterans of the Abraham Lincoln Brigade Photograph Collection; ALBA Photo 15; Series I Photographs 1930s-1990s, Box 3, Folder 2. Tamiment Library/Robert F. Wagner Labor Archives. Elmer Holmes Bobst Library, 70 Washington Square South, New York, NY 10012, New York University Libraries.
---