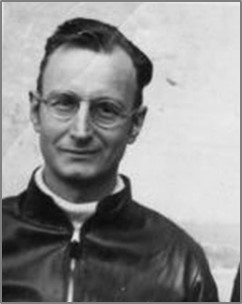 Biography
Stephens, Russell Malcolm. (R. Malcolm Stenbash, Ray Stephan); b. January 9, 1907 (1908), London, Ohio; Father Wilbur F. Stephens, Mother Effie May Kinner Stephens; Graduated from Antioch College, BS, Yellow Springs, Ohio; Divorced, 2nd Marriage (1953); Telephone Engineer, Social Worker, and Instructor of Science at Antioch College; CP April 1936; Received Passport# 447908 on June 21, 1937 which listed his address as 111 West 85th Street, NYC (3623 Illinois Street, Fort McKinley, Ohio); Arrived in Spain via Massanet on August 6, 1937; Served with the XV Brigade, Mackenzie-Papineau Battalion, Transmissions; Served at Fuentes de Ebro, Teruel, Retreats, and the Ebro Offensive; WIA August 24, 1938, Sierra Pandols; May have served in the Regiment de Tren; Returned to the US on December 20, 1938 aboard the Ausonia, return address 111 W. 85th Street, NYC; WWII US Army, TC-RES, Rank Captain; Remarried wife Velma Stephens, worked as a Psychiatric Social Worker in a hospital, Michigan City, Indiana; d. September 24, 1969, Highlands, Macon County, North Carolina, buried in West Side Cemetery, Goshen, Indiana.
---
Sources: Scope of Soviet Activity; Cadre; Figueres List; Mac-Pap; RGASPI; USSDA 2:0958, 60:0638; Find-a-Grave# 144293642.
---
Photograph: Russell Stephens in Spain, RGASPI Fond 545, Opis 6, Delo 994.