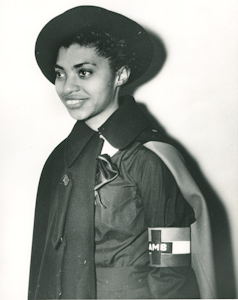 Biography
Kee, Salaria (Kea); b. July 13, 1913 (1911), Georgia (Akron, Ohio); AMB; father George Kee (1883-1914), mother Vertie Kee (1884-?); Nursing education through Harlem Hospital Training School; Single (Married Irish volunteer John J. O'Reilly in Spain); Nurse; CP 1935 and Spanish CP; Received Passport# 378164 on March 24, 1937 which listed her address as Harlem Hospital, NYC, and 289 Livingston Place, Akron, Ohio; Sailed March 27, 1938 aboard the Paris; Arrived in Spain on April 7, 1938; Served with the Republican Medical Services, American Hospital at Villa Paz; Returned to the US Kea  on May 16, 1938 aboard the Normandie;  WWII US Army, Nurse, Rank 2nd LT; d. May 18,  1990, Akron, Ohio, buried in Glendale Cemetery, Akron, Ohio; Husband John J. O'Reilly (1908-1987).
---
Siblings: brothers Andrew Kee (1904-1993), George S. Kee (1909-?), half siblings: brothers William Lee (1914-?), Robert Lee (1914-?), William H. Lee (1919-?), sisters Viola Lee (1915-?), Elna Lee (1917-?), Elanor Lee (1920-?).
---
Source: Sail; Scope of Soviet Activity; RGASPI Fond 545, Opis 6, Delo 920, ll. 6; L-W Tree Ancestry; Find-a-Grave 98067697 (under Salaria O'Reilly); A Negro Nurse in Republican Spainhttps://alba-valb.org/resource/salaria-kea-a-negro-nurse-in-republican-spain/.  Code A
---
ALBA, John Gerassi Oral History Collection https://soundcloud.com/user-488941364/sets/salaria-kea-oreilly-alb
---
Biography:  Salaria Kee was born on July 13, 1913 in Georgia. When Kee was six months old, her father, a worker in a sanitarium, was killed by a patient. Her mother then took Salaria and three other children to Akron, Ohio. When her mother returned to Georgia she left her children in the care of family friends. Kee's three older brothers supported her while she completed school. During her summer vacations Kee worked in the offices of a local doctor, an experience that would influence her choice of vocations. After Kea completed high school three nursing schools in the Akron area refused to admit her because of her race. In June 1930 Kee moved to New York to enter the Harlem Hospital Training School from which she graduated in 1934. She worked for Sea View Hospital and then for Harlem Hospital. While working in Harlem, Kee associated with left-wing groups and joined the Communist Party in 1935. In 1936 Kea volunteered as a Red Cross nurse to assist victims of disastrous floods in the Midwest, but her services were refused on account of her race. Shortly thereafter she learned of a U.S. medical mission preparing to serve in Spain. Salaria Kee left for Spain, aboard the Paris, on March 27, 1937. She sailed in a party of twelve nurses and doctors. In Spain she was assigned to the American Hospital at Villa Paz. There she met Pat O'Reilly, who had been wounded while serving with a British International unit. They were married at the hospital and subsequently made a life together in the United States. In late 1938 she returned to the United States, on board the Queen Mary, to help rally support for the Spanish cause. Kee resettled in New York and for a time made speeches on the Spanish cause before a variety of groups, including churches, schools, and the NAACP. Later she taught classes for practical nurses and nurses' aides. Kea served in the Army Nurse Corps in the last months of World War II. Her experience in the Spanish Civil War was highly valued by her superiors. Pat O'Reilly rejoined his wife when the international volunteers were withdrawn from Spain. They settled in Akron where she died in 1991. ~ Chris Brooks
---
Photograph: Salaria Kee, VALB/ALBA.