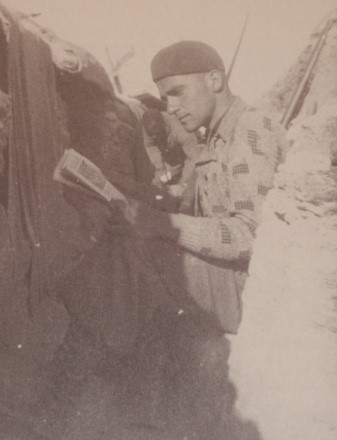 Biography
Walters, Sam
(Sam Finkel); b. July 11, 1917, Mount Freedom, New Jersey; Jewish; Sent to the Hebrew Orphan Asylum in 1923 along with his older brother Alexander and sister Tessie; Alexander left the home in 1935; Single; Clerk; CP 1935; Received Passport# 366599 on February 11, 1937 which listed his address as 5 Minetta Lane, NYC; Sailed February 20, 1937 aboard the
Ile de France
; Served with the XV BDE, Lincoln BN, MG Co.; Served at Jarama, Brunete, Quinto and Belchite; Wounded in action at Belchite; Returned to the US on November 9, 1937 aboard the
Aquitania
; d. 2000 in Cuba, buried Cristobel Colon Cemetery, Havana Cuba; Younger brother of Alexander Finkel who was killed at Quinto.
---
Siblings:
brother Alexander, sister Tessie.
---
Sources:
Scope of Soviet Activity; Americans; Repatriation List (under Finkel, 10/29/1937, ll. 22); USSDA (under Finkel, Sam) 2:0534, 54:0124; (obituary) Harry Fisher, "Sam Walters," The Volunteer, Volume 22, No. 2, Spring 2000, p. 14; L-W Tree Ancestry. Code A
---
Biography:
Sam Walters and I had something in common, besides fighting against fascism in Spain. We both spent most of our youth in orphan homes. Sam had an older brother, Al, whom he always tried to emulate. When Al told Sam that he was joining the International Brigades in Spain, Sam decided that he would go too. Sam, Al and I left the United States on February 20,1937, on the
Ile de France
. Some weeks later, after spending time in France and then making our way over the Pyrenees, we found ourselves in Spain. Sadly, Al was killed early on, in a battle at the Aragon when the Lincolns captured Quinto. I remember how devastated Sam was when he learned of his brother's death. Sam himself was wounded in the next battle at Belchite. Several things stand out in my mind about Sam in Spain. Sam was a machine gunner, but he always had his camera with him, even in battle. I remember the dramatic picture he took of the burial of Jack Shirai, with a group of downcast American comrades looking on. I remember the 9th of July at Mosquito Ridge, when company commander Paul Burns was badly wounded. While at his machine gun position, Sam saw that Paul was unable to move because of his wound. The enemy machine gun and rifle fire was very heavy, but Sam crawled about 30 yards over to Paul and got him to safety. And I remember Sam on the first day of the Brunete offensive, July 6th, feeding his machine gun as the Americans began their attack on the fascist position at Villanueva de la Canada. Sam saw Oliver Law, our black commander, wave the Americans over the top, with Law's runner Jerry Weinberg near him. Sam grabbed his camera just for an instant and got a snapshot of Commander Law leading a predominantly white battalion into battle—the first time such an event ever took place in American history. Sam rushed back to his machine gun, not realizing what an important moment of history he had captured. Law lived that day, but was killed three days later, the same day that Sam saved Paul Burns' life. Sam's photo of the first black commander leading white American troops lives on. (Amazingly, it was 55 years later that Sam's comrade, Tibby Brooks, came across those precious negatives and had them developed.) When Sam returned to the States, he joined the VALB and spent decades as an activist. He worked for civil rights and protested the war in Vietnam. Together with Tibby, he was especially active in the attempt to get a new trial for Mumia Abu-Jamal. Sam worked with the Committee in Solidarity with the People of El Salvador (CISPES) and was arrested many times at demonstrations. Once, while spending eight hours in jail in Washington, D.C. with dozens of young activists, he organized a jailhouse teach-in, telling them about the Spanish Civil War and the Lincoln Brigade. The young people were fascinated and asked many questions. Surprisingly, the guards in the jail, most of them black, also showed tremendous interest, took part in the discussions, and also asked many questions. —Harry Fisher
---
Photograph:
Sam Walters in the trenches of Jarama, Sam Walters personal photograph.; Sam Walters, April 26, 1997, by Richard Bermack.
---