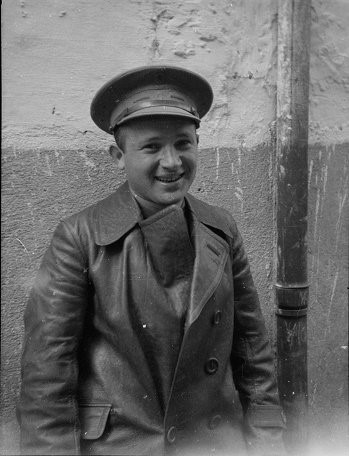 Biography
Gonshak, Samuel
(Gunshuk, Gunshick); b. September 22, 1911, NYC; Father Hyman Gonshak, Mother Sarah Gonshak; No prior military service; Primary school education; Single; Driver; CP November 1931; Received Passport# 366717 on February 11, 1937 which listed his address as 688 Rockaway Avenue, and 2083 60th Street, both Brooklyn, New York; Sailed February 20, 1937 aboard the
Ile de France
; Arrived in Spain on March 15, 1937; Served with the Albacete Auto Park; May 20 to OTS, graduated July 6; Transferred to the XV BDE, Lincoln BN, July 7, 1937, remained with Lincoln-Washington after merger; December 1st to Tarazona Base; February 15, 1938 to XV Brigade Transport; Commissar; Rank Sargento; WIA September 14, 1937 Belchite, hit in the arm, Hospital Benicasim 3 weeks; To Hospital for illness September 4, 1938, Gerona 2.5 weeks; Served at Brunete (section political leader), Quinto, Belchite (section leader, company adjutant, company commander), Retreats, and Ebro Offensive (Commissar of Transport); Returned to the US on December 20, 1938 aboard the
Ausonia
; d. May 9, 2000.
---
Sources:
Sail; Scope of Soviet Activity; Cadre (under Gunshick); Pay; RGASPI Fond 545, Opis 6, Delo 900, ll. 35-46; Opis 6, Delo 904, ll. 19 (under Gunshick); Good Fight C; Harriman; (obituary)
The Volunteer
, Volume 22, No. 3, Summer 2000, p. 21.
---
Obituary:
Sam was a child of poverty, born on New York's lower East Side of Jewish parents who came from Czarist Russia. He never outgrew his lifelong sensitivity to the poor and to those he felt did not get a fair shake. Early on he identified himself with those he considered to be the "underdog." As a very young man during the depression years, he joined the movement known as the Unemployed Councils. The two main objectives of this organization were to fight for a social security system and for unemployment insurance. When people were evicted from their homes because they could not pay the rent, Sam and his group would take their belongings (as their furniture had been placed in the street) back up into their apartments, giving them another two weeks to try to come up with the rent. They also helped people find jobs. Sam remained active in the Unemployment Movement for several years and was arrested a number of times in demonstrations at welfare stations, where he went with the people who could not pay their rent. Sam was a leader in early union days, and though small in stature, he was out there throwing up picket lines and carrying banners. He fought for better working conditions, improved health laws, reasonable wages, and employment and dismissal laws. He laughed when he described being thrown down the steps of city hall and being arrested for civil disobedience. Sam believed it was important to make a contribution to society and not to be consumed with self interest. Early on he championed Sacco and Venzetti, the Scottsboro Boys and Tom Mooney. Often he and his family paid a heavy price for his determined stands. His political activism and civil disobedience earned him a three-year sentence in Sing Sing Penitentiary on a trumped-up charge (assault of a policeman). He served one year in 1933. A major turning point in Sam's life occurred in 1937, when he joined the International Brigades. Sam went to Spain with 20 young volunteers from Brownsville, Brooklyn. Sam was in Spain for more than a year and a half, serving with the Lincoln Battalion when it captured Belchite. Sam participated in the Brunete campaign and went on to the Aragon campaign, where the Battalion helped take Quinto and Belchite. He was wounded and was hospitalized at Benicasim. After recuperation in the hospital, he was sent to Tarazona, outside of Albacete, and given the responsibility of instructing and orienting new recruits. He later became commander of truck transports and, finally, political commissar of the 15th Brigade transports. All of Sam's life he was extremely proud of his decision to go to Spain. Sam once again paid a heavy price for his determination and the strength of his convictions. Franco's victory over the Spanish Republic in 1938 sent Sam home not identified as a hero, but rather labeled as a subversive. After serving for four years in the Army Air Corps as an engineer in the Philippines, he returned home to be hounded by the F.B.I. Undaunted, Sam continued to be an activist, attending freedom marches and civil rights demonstrations. He and other vets were some of the first to march against American involvement in the Vietnam War, in support of nuclear disarmament, and against American intervention in Nicaragua, Chile and El Salvador. He worked tirelessly to raise money for ambulances and medical supplies and for a variety of other causes not always popular in establishment circles. He served as commander of the New York Post of VALB for several years, working at arranging many annual dinners and several of the trips to Spain and especially in disseminating information about the activities of VALB. Sam's activism has been documented in numerous books and in several movies, including
The Good Fight
and
Forever Activists
. Sam's legacy cannot be measured in wealth and acquisitions. Rather his legacy is about making a contribution to society while we are here. He never stopped speaking out and marching for what he believed in and what he felt would be a contribution to society. His honesty and integrity live on in those with whom he came in contact, especially his daughter Essie, Buddy, his son-in-law, and Heather and Amber (his grandchildren). Sam Gonshak passed away on May 9, 2000.
---
Samuel Gonshak Interview
, ALBA V 48-068, December 19, 1986, Manny Harriman Video Oral History Collection; ALBA VIDEO 048; box number 6; folder number 23; Tamiment Library/Robert F. Wagner Labor Archives, New York University.
---
Photographs:
Samuel Gonshak, Commissar of the Auto Park, May 1938. The 15th International Brigade Photographic Unit Photograph Collection; ALBA Photo 11; ALBA Photo number 11-0026. Tamiment Library/Robert F. Wagner Labor Archives. Elmer Holmes Bobst Library, 70 Washington Square South, New York, NY 10012, New York University Libraries; and below in Spain RGASPI Fond 545, Opis 6, Delo 900.
---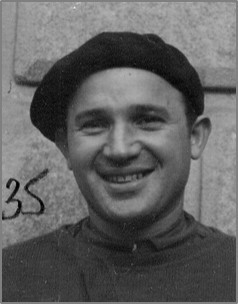 c