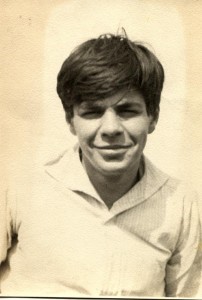 Biography
k-Levinger, Samuel Harold. 22 years old; Single; Student; Socialist Party (YPSL); Received Passport# 222217 on June 28, 1935 which listed his address as 2267 Indianela Avenue, Columbus, Ohio; Sailed January 16, 1937 aboard the Paris; Served with the XV BDE, Lincoln BN; Lincoln-Washington Battalion, MG Company; Served at Jarama, Brunete, Quinto, and Belchite; Wounded in action at Belchite and died from wounds in Pueblo de Hijar Hospital on September 4, 1937, buried in the town.
---
Sources: Scope of Soviet Activity; Lincoln; Americans and Canadians Killed in Spain Complete list to November 15, 1937; RGASPI; USSDA 2:0721, 57:0004; ALBA 280 Samuel Levinger Papers; Laurie E. Levinger, Love and Revolutionary Greeting: An Ohio Boy in the Spanish Civil War (Eugene, Oregon: Resource Publications, 2012).
---
Photograph: Sam Levinger at 18. Photograph courtesy Josh Levinger.