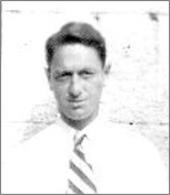 Biography
Lissitz, Samuel. (Cole, Bob); b. July 17, 1910, Chicago, Illinois; Father Louis Lissitz (1885-1931), mother Eva Malkin (1888-1972); Graduated from the University of Chicago, 1929-33, BS Communications; Chemist; CP 1934 and YCL; Received Passport# 371667 on March 4, 1937 which listed his address as 16 West Maple Street, and 3833 West 14th Street, both Chicago, Illinois; Sailed March 31, 1937 aboard the Aquitania; Arrived in Spain on April 24, 1937; Attended School for Commissars; Served at Toledo and Extramdura (most likely with the 11th Regt., 2nd Group, 14th Battery, John Brown Battery), 155mm Guns; Returned to the US on December 20, 1938 aboard the Ausonia; WWII US Army, enlisted December 30, 1943, discharged October 19, 1945; Worked as the director of the Robinson Jewish Home on Aging in Salem, Oregon and as a hospital director in Illinois and Iowa; Moved around after two unsuccessful marriages; Married June Gloyd (1911-?) in 1940, divorced June 15, 1962; Married Sara Newman (1914-?) on May 13, 1968, in Vancouver, Washington, divorced June 15, 1972 in Multnomah, Oregon; Married Virginia Shadbolt on June 7, 1976 in Multnomah, Oregon; Anna Lissitz (1917-?) dates unknown; d. March 25, 1982, Beaverton, Oregon.
---
Siblings: brother Abraham Lissitz (1912-1920), sisters Sarah Lissitz (1914-?), Hanna Lissitz (1916-1996), Anna Lissitz (1917-?).
---
Sources: Sail; Scope of Soviet Activity; RGASPI; L-W Tree Ancestry. Code A
---
Photograph:
Samuel Lissitz in Spain, RGASPI Fond 545, Opis 6, Delo 935.