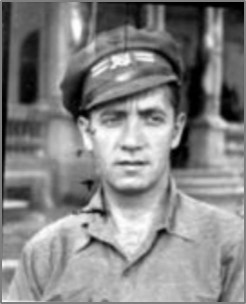 Biography
Peck, Samuel. b. August 13, 1900, Kishinev, Russia (now Romania), To the US 1920; Naturalized in Boston October 1928; Russian American; Father Jacob Peck, mother Ceilia Peck; Attended technical school; Prior military service with 75th Squadron Hydrothermost (?) 1917-18; Married; Mechanic and Furrier; CP of Romania 1919 and CPUSA 1933, education director; Spanish CP; Received Passport# 360292 on January 7, 1937 which listed his address as 515 West 124th Street, and 250 West 26th Street, both NYC; Sailed January 6, 1937 aboard the Paris; Arrived in Spain on January 25, 1937; Served with the XV BDE, Lincoln BN, Co. 2, Section 2, Group 3; Transferred out of brigades due to old shoulder injury at the end of July 1937; Las Planas, later with Intendencia of Hospitals; Noted as having been discharged from Murcia hospital for insubordination and incompetence; Disaffected from the Service Sanitaire, in January 1938 was at Tarazona; Served at Jarama and Brunete; Returned to the US on August 28, 1938 aboard the De Grasse; WWII Armed forces; d. February 28, 1989, Fort Lauderdale, Florida; Spoke Russian, German, Spanish, Yiddish and English.
---
Sources: Sail; Scope of Soviet Activity; Cadre; Voros-Jarama; RGASPI Fond 545, Opis 6, Delo 849, ll. 7, Special List for Personnel Service, Demoralized Elements, January 16, 1938; Opis 6, Delo 961, ll. 9-25; Harriman, L-W Tree Ancestry. Code A1
---
Photograph: Sam Peck in Spain, RGASPI Fond 545, Opis 6, Delo 961.