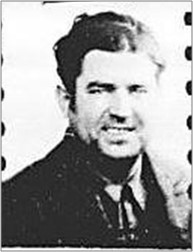 Biography
Queipo Sanchez, Pablo (Queipo S., Sanches); b. May 11, 1904, Ponce, Puerto Rico, To NYC 1919; Puerto Rican; Single (Married a Spanish woman, Gabriela de Alcalá on April 11, 1937); Mechanic, Metallurgist, and Welder; CP 1936, UGT, International Association of Mechanics and Welders; Domicile 62E 108th Street, NYC; Sailed January 16, 1937 aboard the Paris; Arrived in Spain on February 1, 1937; Served with the XV BDE, Lincoln BN, Sanidad, then to MG Co. Interpreter and Company Commissar until April 8, 1937; Transferred to the Auto Park until October 11, 1938 then United Garage No. 1; While at the garage went to Valencia without permission and offered Usine No. 1 directly to the government in the name of the IB; Sent to Brigade under guard; Later with the Mackenzie-Papineau BN, Battalion Commissar; Served at Teruel (Argente, Celadas), and Segura de los Baños; WIA twice (Teruel and Puebla de Hijar); Unable to obtain proof of citizenship, he applied for refugee status in Mexico for himself and his family (including his one-year-old son Francisco Queipo de Alcalá); French Concentration Camp; Arrived in Mexico on July 27, 1939 aboard the Mexique; Exiled in Mexico; Spoke Spanish, English, Italian and French.
---
Sources: Cadre; RGASPI (also under S. and Queipo Sanchez) Fond 545, Opis 6, Delo 42, ll. 28, Relacion de los desertores del Acantonamiento "H" (indicates Battalion Commissar); Opis 6, Delo 849, ll. 7, Special List for Personnel Service, Demoralized Elements, January 16, 1938; Opis 6, Delo 966. ll. 4-6; Opis 6, Delo 966; José Alejandro Ortiz Carrión and Teresita Torres Rivera, Voluntarios de la Libertad, Puertorriqueños en Defensa de la República Española 1936-1939. Code A
---
Photograph: Queipo Sanchez, Pablo courtesy José Alejandro Ortiz Carrión.