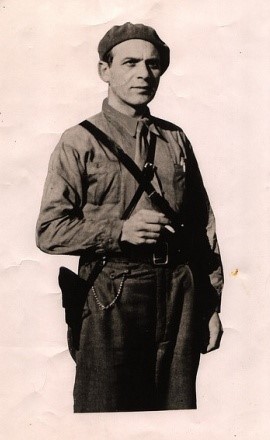 Biography
Voros, Sandor (Wrought, Alexander); b. July 31 (3 or 2), 1900, Czegled, Hungary, moved to US in 1921, lived in Canada from January through November 1930; Hungarian American; Father Frederick, three sisters; 3 years university education; 1918-1919, Hungarian Army, 141 Artillery, Republican Army and Soviet Army; Took part in the Hungarian Revolution, Rank Cadet; Single; Journalist (Daily Worker reporter); CP 1929, Writers Union 1924-1929, Newspaper Guild 1934-1937; Passport #98; Domicile 1500 S. Taylor Road, Cleveland, Ohio; Arrived in Spain on May 27, 1937; Trained at Almansa then transferred to the Historical Commission and worked on the Book of the XVth Brigade; To XV Brigade Historical Commission; Later worked as the editor on The Volunteer for Liberty; Then to XV BDE staff, Commissariat; Served at Quinto, Belchite, Fuentes de Ebro, Seguro de los Banos, Retreats (Gandesa to Ebro) and Ebro Offensive (Gandesa); Returned to the US using certificate of identity #940 on December 15, 1938 aboard the Paris; Married Myrtle Wrought (1912-?); d. September 1971; Spoke Hungarian, German, and English.
---
Sources: Cadre; RGASPI Fond 545, Opis 6, Delo 344, ll. 97-; Opis 6, Delo 1007, ll. 33-44. Sandor Voros Collection of Lincoln Battalion Records, copies at Honnold Library of the Claremont Colleges, and Claremont, California; California State College at Fullerton, Fullerton, California; Sandor Voros, American Commissar.
---
Photograph: Sandor Voros, Photograph courtesy Voros family.