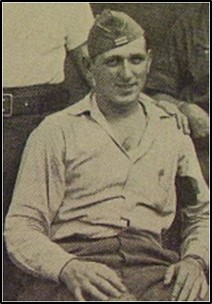 Biography
Land, Sanford Karl. (Land, Stafford); b. May 11, 1913, Cleveland, Ohio; Father Archie Land [Lanzewitsky] (1882-1968), mother Yetta Abramson (1887-1986) Attended college for 1 year; US Army, Ohio National Guard, 3 years; Single; Pilot; CP 1935 (1933) and YCL 1927-1934; Received Passport# 56752 on August 17, 1933 which listed his address as 9007 Vale Avenue, Cleveland, Ohio (10201 Yavel Avenue, Cleveland, Ohio); Sailed February 6, 1937 aboard the Paris; Arrived in Spain on February 24, 1937; Served with the Regt. de Tren until June 6, 1937; Then to Auto Park, Rank Teniente; Repatriated January 1938; Returned to the US on February 16, 1938 aboard the Lafayette; Married Paula A Fischer (1915-?) on December 13, 1940 in Cuyahoga, Ohio; WWII US Army, enlisted March 27, 1941; Married Doris Latanne Welch (1913-?) on December 16, 1944 in Nogales, Sonora, Mexico; d. September 9, 1960 in Sanderson, Texas killed in a small plane airplane accident along with two others.
---
Sources: Sail; Scope of Soviet Activity; Cadre; Repatriation List (2/5/1938, ll. 106); RGASPI; Oral history with mother Yetta Land http://salticid.nmc.csulb.edu/cgi-bin/WebObjects/OralAural; L-W Tree Ancestry.  Code A
---
Photograph: Sanford Land from a group photograph, Ohio Boys Fighting for Democracy in Spain.