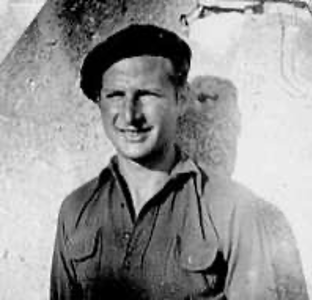 Biography
Shapiro, Saul Meyer. (Speare, Stephen); b. February 8, 1915, NYC; Jewish; grandparents Bernard and Estrvou Rapp; American living in Canada; Attended Queens College, Kingston, Ontario for 3 years; No prior military service; Single; Accountant for a dress manufacturing company; CP of Canada 1936, International Ladies Garments Workers Union (Canada); Received Passport# 92, Montreal series, on February 24, 1937 which listed his address as 1472 Bedford Avenue, Brooklyn, New York, actually lived in Montreal at 5351 St. Urbain, Montreal, Canada; Lived in Canada from 1927-37; Sailed March 10, 1937 aboard the Washington; A note in USSDA indicates that he was "ordered detained by French police who entrusted his passport to this consulate, but he escaped from the ship during the night;" Shapiro left his baggage aboard the ship and later wrote to request that it be sent to an address in Montreal, Canada; Arrived in Spain on March 27, 1937; Trained with the Washington Battalion, Co. 2 at Madrigueras; Served with the XV Brigade, Washington Battalion and Lincoln-Washington Battalion until August 20, 1937; transferred to 11th Division, 9th Brigade, 2nd Battalion, Company Adoros; then with Averiguaciones Especiales EM Base IB from November 30, 1937 to February 3, 1938; moved to Servicio de Personel, Base IB from February 3, 1938 to April 7 1937; Then to XV Brigade, Lincoln-Washington Battalion, Plana Mayor; Served at Brunete (Villanueva de Cañada, Villanueva del Perdillo); Quinto, Fuentes de Ebro, La Fatarella, Villalba; WIA July 30, 1938 during an attack at Villalba, Ebro Offensive, hit in the head, in hospital Villacarca (Barcelona) and #7 Mataro for two months; Served with the XV Brigade, Lincoln-Washington Battalion (July 1938); Rank Soldado; Served at Jarama, Brunete, Aragon and the Ebro Offensive; Returned to the US on December 15, 1938 aboard the Paris; d. September 21, 2009.
---
Sources: Scope of Soviet Activity; Americans; Pay; Canadian; RGASPI Fond 545, Opis 6, Delo 569, ll. 21-33; Opis 6, Delo 986, ll. 55-60; USSDA 2:0925, 60:0237; Momryk; Petrou.
---
Photograph: Saul Meyer Shapiro in Spain, RGASPI Fond 545, Opis 6, Delo 986.