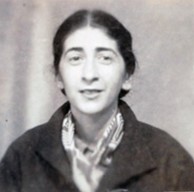 Biography
Chadwick, Selma Ruth
("Sora Riva"), b. April 10, 1904, Ignalina, Lithuania (Poland), to the US in 1914; Polish American; AMB; Father David H. Chadwick, mother Eva Cohen Chadwick; Nursing training at Bellevue Hospital, 1925-28; Single; Nurse; Received Passport# 452064 on June 26, 1937; Arrived in Spain on June 15, 1937; Served with the Republican Medical Services as a nurse; WWII US Army, 1st General Hospital, England, rank Captain; d. May 6, 1962, buried at Frumah Packard Cemetery, Syracuse, New York; The original family name was Tzodikoff.
---
Siblings:
sisters Esther Chadwick and Irene Chadwick, brothers Abraham Chadwick and Bernard Chadwick.
---
Source:
Scope of Soviet Activity; RGASPI (states b. 1908, New York); RGASPI Fond 545, Opis 6, Delo 544, ll. 26; Find-a-Grave # 120519242.
---
Photographs:
Selma Chadwick ALBA, 1918 family photograph, Find-a-Grave.
---