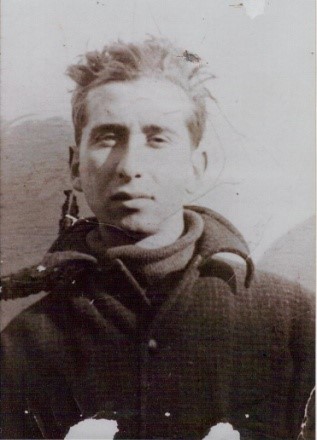 Biography
Klein, Seymour
(Jose Simon Perez); b. March 16 (20), 1916, NYC; Father Morris Klein (1869-?), mother Fanny Feld (1888-?); Ancestry indicates he was married prior to 1935; Attended New York University for 1 year; Single; Seaman and Organizer for the NMU; CP February 1938; Spanish Passport under Jose Simon Perez; Travelled on a Seaman's Certificate that listed his address as 302 Avenue C, Brooklyn; Arrived in Spain via Massanet on May 29, 1938; Served with the XV BDE, Lincoln-Washington BN, Co. 2 (July), later Co. 3. Served at the Ebro Offensive; WIA September 15, 1938; Returned to the US on December 20, 1938 aboard the
Ausonia
; WWII US Navy, Atlantic and Pacific Theaters, rank LTJG [remained in after the war]; Married Hazel Ruchefsky (1922-2003) on December 14, 1945, in NYC; Served as Post Commander of the San Diego Post of the VALB; d. June 5, 1994, San Diego, California.
---
Sibling:
brother Joeseph Klein (1915-?); half-siblings Saloman Klein (1927-?) and Anna Klein (1920-?).
---
Source:
Scope of Soviet Activity; Figueres List; Pay; RGASPI; (obituary)
The Volunteer
, Volume 17, No. 1, Spring 1995, p. 4; ARP Survey Response; Sue Garson, "For Whom the Bell Tolled, San Diego Veterans of the Spanish Civil War,
San Diego Reader
, July 17, 1980; L-W Tree Ancestry; Find-a-Grave #196450966.  Code A
---
Photographs:
Si Klien. Photograph courtesy Edward Lending; and two from RGASPI Fond 545, Opis 6, Delo 923; and from his Application for Seaman's Certificate of Identity.
---