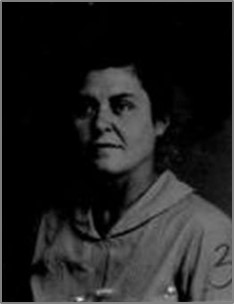 Biography
Merims, Sonia
. (Sose Merimsky); b. September 6, 1900, Tarutino, Chelyabinsk, Russia, to the US February 5, 1914; Naturalized June 2, 1931 Eastern District of New York District Court; AMB; Jewish; Father Isaac Merims (1860-1949), mother Ida Merims (1871-1936); Attended the Jewish Maternity Hospital Training School; Married to Arthur Peer (1892-1938); Nurse; CP 1926; Received Passport# 378163 on March 24, 1937 which listed her address as 289 Convent Avenue, NYC; Arrived in Spain in April 1937; Served with the Medical Services, Head Nurse Tarazona; Returned to the US briefly arriving February 15, 1938 aboard the
Aquitania, 
she later returned to Spain; Wounded in aerial bombardment; Sent to Paris to recuperate; Her husband who left the US to join her in Paris died of a heart attack aboard the ship enroute; After returning to the US she gave an ambulance in memory of her husband; Merims returned to the US on October 9, 1938 aboard the
Georgic
; Married Alex Kolkin (1898-1985) in 1968 in NYC; d. July 24, 1985, buried in New Montefiore Cemetery in West Babylon, New York.
---
Siblings:
brothers Jacob Isaac Merims (1890-1960), Samuel Merims (1891-1976), Hyman I. Merims (1893-1968), Henry Merims (1893-1989), and Jacob Isaac Merims (1902-1994), sisters Katcha Merims (1889-1938), and Dena Merims (1891-1963).
---
Sources:
Scope of Soviet Activity; RGASPI;
Daily Worker
December 21, 1937, p. 7; L- W Tree Ancestry; Find-a-Grave #177621526.
---
Photograph:
Sonia Merims in Spain, RGASPI Fond 545, Opis 6, Delo 947; and Frederika Martin Photo 1:1:29.
---