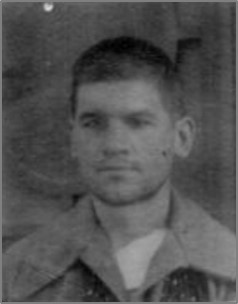 Biography
Postek, Stanley. (Szeliga, Ladislaus Feinand; Szeliga, Walter); b. February 5, 1912, Lowell, Massachusetts; father Victor Szeliga (1886-?), mother Jozefa Janas Vojnar (1882-?); Attended St. Stanislaus Kosciusko Catholic School; Single; Seaman; CP September 1933; Sailed May 1938 aboard the Manhattan; Arrived in Spain via Massanet on May 29, 1938; Served with the XV BDE, 58 BN, MG Co., crewed a Hotchkiss; Rank Soldado; Served at the Ebro Offensive; Severely wounded August 20, 1938; Returned to the US as a crewmember on May 10, 1939 aboard the Collamer; d. April 9, 1991 in San Diego, California, cremated with his ashes scattered at sea.
---
Sibling: sister Anna Szeliga (1914-?).
---
Sources: Figueres List; Pay; RGASPI; USSDA 2:0849, 58:0948; ALBA 089 Stanley Postek Spanishc Civil War Papers; ALBA PHOTO 089 Stanley Postek Photographs; Good Fight A; Harriman; Obituary The San Francisco Examiner, April 15, 1991; L-W Tree Ancestry. Code A
---
Photograph: Stanley Postek in Spain, RGASPI Fond 545, Opis 6, Delo 964.