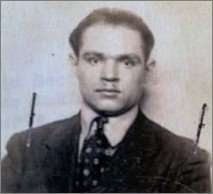 Biography
k-Zajac, Sylvester 
(Sylwester; Sol); b. May 5, 1910, Bienkowce, Rohatyn, Austria (Ukraine) [Rohaytan, Poland]; To the US June 1, 1931 aboard the SS
Kosciuszko
, In the US he stayed with his uncle Kazmier Zaionz and his cousin Walter Zaionz; Naturalized through father February 20, 1928; Father Peter Molace (Kiev, Russia) [Fed Bilohlawski] mother Agafia (Helen) Zajac (1892-1984); Illegitimate child, was raised by his grandparents Anton Zajac and Maria Kobelnyk; Education through the 7th grade; Single; Chef, Tailor, and Electrician; CP 1933; Received Passport# 402130 on April 30, 1937 which listed his address as 34 McKibben Street, Brooklyn, New York; Arrived in Spain on June 12, 1937 aboard the Georgic; Served with the Mackenzie-Papineau BN; Drowned while attempting to cross the Ebro, March 1938 during the Retreats.
---
Sources:
Scope of Soviet Activity; Mac-Pap; RGASPI Fond 545, Opis 6, Delo 576 (name only); USSDA 2:1060, 62:0095.
---
Photograph:
Sylvester Zajac, Passport Photograph, 1937.