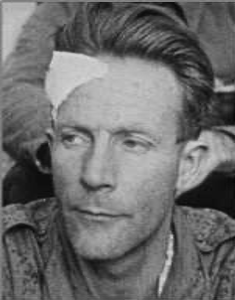 Biography
Sundsten, Tauno Arvid. (Tono Arvid; Sundstet; OPlaviKantola); b. April 29, 1910, Toronto, York, Ontario, Canada; Finnish American; Father Arvid Karl Sundsten (1884-1961), mother Eva Liimatainen (1884-1935); Single; Auto Worker; CP 1934; Received Passport# 367513 Domicile 1586 W. Buenavista, Detroit, Michigan; 27 years old; Arrived in Spain on April 29, 1937, Served with the XV Brigade, Washington Battalion, MG Co., Section 1; Lincoln-Washington Battalion, MG Co.; Rank Soldado; Served at Brunete; WIA; Returned to the US on March 9, 1938 aboard the Antonia; WWII Armed Forces; d. November 11, 1957, Detroit, Michigan.
---
Sibling: sister Laila Eilisa (Sundsten) Blovits.
---
Sources: Cadre; Washington; Repatriation List (2/17/1938, ll. 114); Finnish, [Date of Death from Cameron Stewart List]; RGASPI (under Sundsten); MPE; L-W Tree Ancestry; (Obituary notice), Detroit Free Press, November 13, 1957.
---
Photograph: Tauno Sundsten (tentative id) in the hospital, still from With the Abraham Lincoln Battalion. Albert Prago and Tauno Sundsten, 1937. Veterans of the Abraham Lincoln Brigade Photograph Collection; ALBA Photo 15; Series I:B Individuals in Groups, Photographs 1930s-1990s, Box 3, Folder 139a. Tamiment Library/Robert F. Wagner Labor Archives. Elmer Holmes Bobst Library, 70 Washington Square South, New York, NY 10012, New York University Libraries.