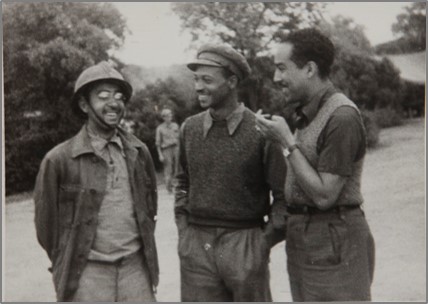 Biography
Battle, Thaddeus Arrington (Battle, T. Harrington; Thadelius); b. February 7, 1915, Nashville, North Carolina; African American; father William Boise Battle (1882-1964), mother Lou Jennie Arrington (1882-1935); Attended Howard University; Single; Driver and Student; ASU 1936, CP 1936 and YCL 1937 (1936), Unit Literary Agent; Received Passport# 442807 on June 14, 1937 which listed his address as 1401 12th Street, Washington, DC; Sailed June 18, 1937 aboard the Alaunia; Arrived in Spain via Setcases on July 5, 1937; Served with the 1st Regiment de Tren, 2nd Squadron, Driver; Requested repatriation in the Fall of 1937 and January 1938 to reenter Howard University; Returned to the US on November 5, 1938 aboard the President Roosevelt; Married Arleta Silver (1920-?) on May 7, 1941 in Washington, DC; Son Thurman Richardson (1939-2017), and daughter; d. December 26, 2000, Bronx, NY.
---
Siblings: brothers Walter Solomon (1906-1987), Otis Edward (1907-1907) John Pete (1910-1969), William Turner (1914-1962), Rosenwald (1919-1971), Morris (1921-2002), sisters Rosa Ethel (1908-1994), Lillie Mae (1917-2013), Catherine Lou Jean (1924-2015).
---
Source: Sail; Scope of Soviet Activity; Cadre; Figueres List; RGASPI Fond 545, Opis 6, Delo 542; Opis 6, Delo 861, ll. 132-134; USSDA 2:0399, 52:0699; African Americans; L-W Tree Ancestry. Code A
---
Biography A 21-year-old student pursuing a pre-med degree at Howard University before joining the Lincoln Brigade, Thaddeus Arrington Battle joined the YCL in 1936 and was also an active member of the American Student Union. Battle left for Spain, aboard the Alaunia, on June 18, 1937. In Spain, Battle served as a truck driver in the English speaking Second Squadron of the Premiere Regiment de Tren. In November 1937, Battle participated with other student volunteers in the broadcast of an Armistice Day greeting from Spain to the United States. Battle was wounded during the summer of 1938 but quickly recovered and rejoined his unit. When Battle returned to the United States on November 9, 1938, he was greeted by a congratulatory telegram from the faculty of Howard University saying, "We are proud that one of our own was a member of the Abraham Lincoln Brigade." Signers of the message included Sterling Brown, Ralph Bunche, Franklin Frazier, Doxey Wilkerson, and B. F. Carruthers. ~ Chris Brooks
---
Photograph: Thaddeus Battle, Bunny Rucker and Langston Hughes. Photograph from The Life of Langston Hughes.