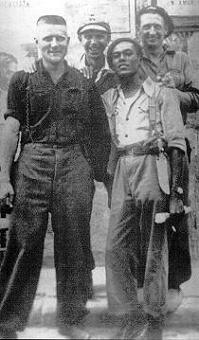 Biography
Gibbs, Theodore b. February 12, 1906, Fort Worth, Texas; African American; High School education; Married; Driver; Received Passport# 4899 on March 19, 1937 which listed his address as 4224 Greenshaw Street, Chicago, Illinois (RGASPI 1605 S. Holman Avenue, Chicago, Illinois); IWO, CP agitprop; Sailed March 24, 1937 aboard the Manhattan; Arrived in Spain on April 4 (23), 1937; Served with the Service Sanidad, Benicasim Transport Service; Orihuela, Transport Service, maintenance; Later with Evacuation Group #1, Ambulance Group; 226 BDE; Last unit Army of the Ebro, Evacuation service; WIA during a bombardment of a road on April 5, 1938, in hospital 3 months at Tortosa, hit in chin, leg and chest; Returned to the US on December 20, 1938 aboard the Ausonia; WWII Civilian; d. March 12, 1962, Chicago, Illinois.
---
Sources: Sail; Scope of Soviet Activity; Cadre; RGASPI Fond 545, Opis 6, Delo 896, ll. 23-36; Pacific NW; African Americans. Volunteer Article about daughter Michele Gibbs poetry. Code A
---
Biography:  Theodore Gibbs was born February 12, 1906 in Fort Worth, Texas, the oldest of four surviving children born to Estella and Samuel Gibbs. Gibbs' father, a laborer, left the family when the children were small and his mother supported the family by working as a housekeeper. At thirteen, Gibbs left home after witnessing the rape of his mother by a white man for whom she did laundry. As a young man he hoboed across the country taking any type of job along the way and eventually landed in Seattle where he found work on the docks as a stevedore. Gibbs joined the Communist Party during the 1920's and became a Party organizer. After completing a period of training he was assigned to Cleveland and, in 1930, to Chicago where he worked as an organizer of the Unemployed Councils. While working in Chicago, Gibbs met his future wife, Paula Rabinowitz, an active member of the Young Communist League who at the time was working in the Party's anti-eviction campaigns. Gibbs sailed for Europe on March 24, 1937 aboard the Manhattan. In Spain he was an ambulance driver. In February 1938 Gibbs was injured when his ambulance was shelled near Brunete. He returned to the United States aboard the Ausonia on December 20, 1938. Back in Chicago Gibbs was hired as a driver by fellow veteran Herman Pico in his firm. Gibbs worked for Pico Tire and Auto until his death. In 1941, Gibbs and Paula were married, both remaining active members of the Party. In his spare time Gibbs began to draw and paint graphic depictions of the Spanish Civil War. Meanwhile, the family struggled under the dual burden of McCarthyism and virulent racism throughout the post-war years. As a politically active interracial couple they were the targets of constant harassment by the police. In 1955, Gibbs and his wife opened a small store and consequently the family, for the first time, had a measure of financial independence. During the mid-1950s Gibbs was absorbed in the deteriorating conditions of life for black people in the United States and in the struggles of the emerging nations on the African continent. In 1959 Gibbs left the Communist Party over its failure to openly support the Algerian struggle for independence. He died in Chicago on March 12, 1962. ~ Chris Brooks
---
Photograph: Gibbs, (front right), with unidentified volunteers. Photograph courtesy Family.