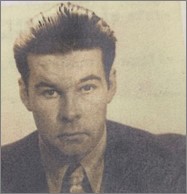 Biography
k-Elliot, Theodore Roy (Ray); b. April 1, 1911, Seattle, Washington; Father William Elliott (b. 1869-1918), mother Edna Maude (Skelly) Elliot (1879-1915); Received Passport# 33254, San Francisco series, on January 19, 1938 which listed his address as 318 2nd Avenue, Seattle, Washington; Arrived in Spain via Agullana on February 15, 1938; Served with the XV BDE, Lincoln-Washington BN; Rank Soldado; Reported MIA Retreats; Captured and believed executed April 3, 1938, Gandesa, during the Retreats.
---
Siblings: brothers Robert William Elliot (1899-1970), Bernard Claude Elliott (1900-1973), Glendon Howard Elliott (1903-1966), sisters Maxine Irene Elliott (1906-1979), Marie Alona Elliott (1908-1939).
---
Source: Scope of Soviet Activity; BN 58 Retreats; Figueres List; RGASPI Fond 545, Opis 6, Delo 885, ll. 79, ver arch gen amer; Pacific NW; L-W Tree Ancestry. Code A
---
Photograph: Theodore Roy Elliot, Passport Photograph, 1937.