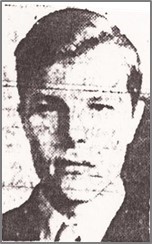 Biography
Cogswell, Theodore Rose
(Lewis, Ted); b. March 10, 1918, Coatsville, Chester County, Pennsylvania; Attended Cleveland College; Single; Clerk and Steel Worker; YCL 1935; Received Passport# 430165 on June 1, 1937 which listed his address as 2562 Queenstown Road, Cleveland Heights, Ohio; Sailed June 4, 1937 aboard the
Statendam
(June 2, 1937 aboard the
Aquitania
); Arrived in Spain via Setcases on June 21, 1937; Ambulance Driver; Returned to the US on July 22, 1938 aboard the
Washington
; WWII US Army Air Corps, ground officer for cargo planes flying over the Burma "Hump," rank Captain; Went to Shanghai, China after the war while awaiting discharge; Beginning in the 1950s he became a published Science Fiction author with more than 40 short stories published; He was also the editor for the Twenty-First Century Studies a long-running fanzine; Wife George Rae Marsh Cogswell; d. February 3, 1987, Scranton, Pennsylvania, buried in Arlington National Cemetery, Arlington, Virginia
---
Source:
Sail; Scope of Soviet Activity (under Lewis); Cadre; Figueres List; RGASPI (under Lewis) Fond 545, Opis 6, Delo 842, p 48; USSDA 2:0452, 53:0345; ALBA 020 Theodore Cogswell Papers; ALBA 48, Harriman, #31, September 7, 1985; L-W Tree Ancestry; Find-a-Grave#72181933. Code A
---
Biography
Theodore Rose Cogswell was born in 1918 in Pennsylvania. In 1937, when he was 19, Cogswell told his parents he was going on vacation to France but instead he crossed the Pyrenees into Spain to join the International Brigades in the Spanish Civil War. He trained as a signalman with a machine gun company, but when it was discovered that he was under 21 he was transferred off the front lines, first to work as a truck driver, then later as an ambulance driver for the Hospital Pasionaria in Murcia. Cogswell returned to the States on the
S.S. Washington
in July 1938, and enrolled in Cleveland College. During World War II, he flew cargo planes with the U.S. Army Air Corps in the Asian theater. After the war, Cogswell completed a Master's degree in English and began his career as a writer of science fiction. He published short stories and novellas, and served as national secretary of the Science Fiction Writers of America, occasionally working with fellow writer and Spanish Civil War veteran Arthur Landis. Cogswell died in Pennsylvania in 1987. - Courtesy of Tamiment Library, NYU.
---
Cogswell's career as a science fiction author.
His first published short story, "The Spectre General" in the magazine Astounding (June 1952), was a humorous tale in which a long-forgotten maintenance brigade of the Imperial Space Marines holds the promise of reinvigorating a declining Galactic Empire. Cogswell wrote nearly 40 science fiction stories, most in the same lighthearted vein as his first, and was co-author of a novel in the Star Trek franchise. Cogswell was also the editor of the long-running "fanzine for pros", Proceedings of the Institute for Twenty-First Century Studies, a collection of which was published in 1993. In this, writers and editors discussed their and each other's works. In recent years, Cogswell's short story "The Wall Around the World" (1962) was rediscovered and received much attention, due especially to the many similarities between its protagonist and Harry Potter: Like Potter, Cogswell's Porgie is an orphan boy living with his aunt and uncle, who learns magic in school, flies on a broomstick and is constantly persecuted by a nasty cousin (who is in this case, however, part of the magical community). There is, however, no direct evidence that J.K. Rowling read Cogswell's story or was influenced by it. - Courtesy of Wikipedia.
---
Interview Theodore Cogswell,
ALBA V 48-031, September 7, 1986, Manny Harriman Video Oral History Collection; ALBA VIDEO 048; box number 23; folder number 3; Tamiment Library/Robert F. Wagner Labor Archives, New York University.
---
Photograph:
Theodore Cogswell. Photograph from the
Cleveland, Press
(OH) September 5, 1938.; Ted Lewis, by Richard Bermack.
---