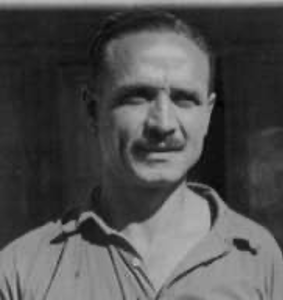 Biography
Russiano, Thomas Basil. b. December 29, 1898, Hazelton, Pennsylvania; Italian American; Father Joseph Russiano, mother Aurora Camody Russsiano; US Navy 1923- 27, Pharmacist 2nd class, Seaman's Hospital, Brooklyn, NY; Some elementary school, 18 months chiropractic school and Machine shop apprentice; Single; Automobile worker; CP 1928, United Auto Workers of America; Received Passport# 468892 on August 6, 1937 which listed his address as RFD No. 1, Orefield, Pennsylvania; Sailed August 18, 1937 aboard the President Harding; Arrived in Spain via Massanet on August 31, 1937; Served with the XV BDE; 15th Army Corps, 15th Special MG BN, Co. 1; Rank Cabo; Served at Fuentes de Ebro, Teruel, Segura de los Banos, Retreats and Ebro Offensive; Returned to the US on December 20, 1938 aboard the Ausonia; WWII US Navy, PHM3; d. February 29, 1992, Texas, buried in Grandview Cemetery, Allentown, Lehigh County, Pennsylvania.
---
Siblings: sisters Rose Elizabeth Russiano Peters, Lucy Aurora Russiano Soda, and Louise Edith Russiano Beitelman. Brothers John, Sam, Salvadore
---
Sources: Sail; Scope of Soviet Activity; Figueres List; RGASPI Fond 545, Opis 6, Delo 978, ll. 26-32; Find-a-Grave# 131621874. Code A
---
Photograph: Thomas B. Russiano in Spain, RGASPI Fond 545, Opis 6, Delo 978.