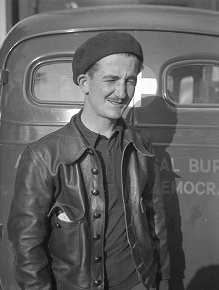 Biography
Lloyd, Thomas Leroy, Jr
. b. October 4, 1908, Steubenville, Ohio; father Thomas Leroy Lloyd, Sr. (1894-1938), mother Rebecca Amelia Fredricka Vesperman (1882- 1931); No prior military experience; Attended college for 1 year and studied history and art; Single; Steel worker and Driver; CP March 1937, unit organizer and Spanish CP, Steel Workers Organizing Committee Lodge #1190; Received Passport# 481081 on October 18, 1937 which listed his address as YMCA, 9256 (925) North 7th Street, Steubenville, Ohio; Sailed October 18, 1937 aboard the
Aquitania
; Arrived in Spain via Massanet on November 8, 1937; Trained at Tarazona, to the front March 15, 1937; Served with the XV BDE, Lincoln-Washington BN, Co. 1; Transferred April 20, 1938 to XV BDE, Transport, Driver, Rank Soldado; Served at Retreats (Batea, Gandesa) and Ebro Offensive; Twice hospitalized for illness February 1938 Benicasim 10 days and May 1938 Valls 10 days; Returned to the US on December 15, 1938 aboard the
Paris
; WWII US Army Air Corps, enlisted December 14, 1941; d. April 30, 1990, Ridgewood Village, Bergen, New Jersey; During actions at Batea on April 1, 1938 Lloyd captured two Nationalist Soldiers with an empty pistol.
"While occupying positions with Co.1 of Lincolns at Batea noticed movement near our lines. Going out to investigate encountered 2 Fascists. Brought them in to our lines. Pistol was empty. (I found this out afterwards)"
---
Siblings:
brother William Lloyd (1914-?), sisters Margaret Lloyd (1907-?), Rebecca Lloyd (1919-?), Jean Lloyd (1926-?).
---
Sources:
Cadre; Figueres List; Pay; RGASPI Fond 545, Opis 6, Delo 936, ll. 6-12. Code A
---
Photographs:
Thomas Lloyd, Chauffeur, May 1938. The 15th International Brigade Photographic Unit Photograph Collection; ALBA Photo 11; ALBA Photo number 11-1304. Tamiment Library/Robert F. Wagner Labor Archives. Elmer Holmes Bobst Library, 70 Washington Square South, New York, NY 10012, New York University Libraries; and RGASPI Fond 545, Opis 6, Delo 936.
---