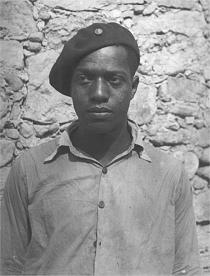 Biography
Page, Thomas. ("Big Tommy"); b. September 29, 1909, NYC; African American; Father Ray Page, mother Elizabeth Page; High School education; No prior military service; Single; Model; CP 1934; Received Passport# 368136 on February 18, 1937 which listed his address as 14 Randall Court, Rockville Center, Long Island, New York; Sailed March 10, 1937 aboard the Washington; Arrived in Spain on April 8, 1937; Served with the 86th BDE, 20th BN, MG Co., Cordoba Front, was one of the last Americans with the 86th BDE; Transferred to XV BDE, Auto Park; Later Lincoln-Washington BN, Co. 3; Rank Soldado; Returned to the US on December 20, 1938 aboard the Ausonia; WWII US Army, 376th Engineering BDE, Co. C, North Africa and ETO; d. April 1985, NYC.
---
Sources: Sail; Scope of Soviet Activity; Cadre; Pay; RGASPI Fond 545, Opis 6, Delo 959, ll. 28-34; Good Fight; African Americans. Code A Box 2, Folder 23, 177_197042 [List of Names] Moscow Fond 545, Opis 5, Delo 197, ll. 42, Oct. 1938.
---
Biography: 
Thomas Page was born in New York on September 29, 1909. He attended high school for two years. During the early years of the Depression, Page was unable to find employment and for a brief period resorted to the illegal manufacture and sale of liquor. Page's politicization began through his involvement in the Unemployed Councils, and he joined the Communist party in 1934. "As I understood events in that particular era," he later remembered, "it was the Communist party who did anything. Everybody else just talked." Page left for Europe aboard the
Washington
, on March 10, 1937. In Spain his first assignment was to drive a truck in a convoy heading for the Cordoba Front. There he was attached to a machine gun company of the 20th International Battalion. Page was eventually reassigned to the XVth Brigade's Auto Park where he served as a driver. He later joined the Lincoln-Washington Battalion. Having proved himself in combat, Page was made a squad leader, noted for the care and time he took in training young Spanish conscripts assigned to his unit. During the Ebro Campaign, Page was twice cited for bravery. Late in the offensive he received severe wounds to his shoulder and stomach and spent much of his remaining time in Spain hospitalized. He returned to the United States on the
Ausonia
on December 20, 1938. Back in New York, Page worked as a guard at the Soviet Pavilion at the New York World's Fair and then in the New York fur market. When World War II began, Page joined the U. S. Army. Assigned to Company C, 376th Engineering Brigade. He served in North Africa, Italy and France. After the war Page took up photography and learned camera repair. During the 1950s, he had several visits from the FBI. These eventually stopped because he persistently refused to talk to them. Later Page worked for the Bell Telephone Company until his retirement. He died in April 1985. ~ Chris Brooks
---
Photograph: Thomas Page, Lincoln-Washington, July 1938. The 15th International Brigade Photographic Unit Photograph Collection; ALBA Photo 11; ALBA Photo number 11-0231. Tamiment Library/Robert F. Wagner Labor Archives. Elmer Holmes Bobst Library, 70 Washington Square South, New York, NY 10012, New York University Libraries.