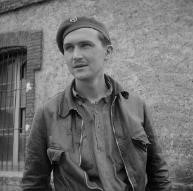 Biography
O'Malley, Thomas William (O'Malley); b. March 16, 1914, Plainfield, New Jersey; Attended the Colorado Mining School; Prior military service listed as summer training [likely CMT]; Single; Geologist, Clerk, and Store Superintendent; CP 1930 (1931, section Agit. Prop); Received Passport# 28914 San Francisco series, on June 1, 1937 which listed his address as 3175 ½ Winter Street, Los Angeles, California; Sailed June 12, 1937 aboard the Georgic; Arrived in Spain via Massanet on June 25, 1937; Served with the XV BDE, Mackenzie-Papineau Battalion; Returned to the US on April 9, 1938 as a workaway (utility man) aboard the SS Vincent from Havre; WWII US Army, 1943 to 1946, was in the first wave at Iwo Jima; d. November 16, 2001, Provincetown, Massachusetts, buried in Provincetown cemetery.
---
Sources: Sail; Scope of Soviet Activity; Cadre; Figueres List; Mac-Paps; Harriman, (obituary) The Volunteer, Volume 24, No. 1, March 2002, p. 21; (obituary) Provincetown Banner, November 22, 2001 online printout. Code A
---
Obituary Born in New Jersey, O'Malley grew up in New York City's Hell's Kitchen and there acquired a lifelong commitment to social justice. He went to Spain in 1937 and saw action on the Aragón front. Later, he served in the U.S. Army and was among the first wave of troops to land at Iwo Jima in 1945. He retired in 1984 and, according to the Provincetown Banner, "he became a well-known observer of the Commercial Street scene from his front porch, while maintaining an active interest in international political affairs." Thomas O'Malley died in Provincetown, Massachusetts, on November 16, 2001, at the age of 87.
---
Photograph Thomas O'Malley, Intendencia, December 1937. The 15th International Brigade Photographic Unit Photograph Collection; ALBA Photo 11; ALBA Photo number 11-00664. Tamiment Library/Robert F. Wagner Labor Archives. Elmer Holmes Bobst Library, 70 Washington Square South, New York, NY 10012, New York University Libraries.