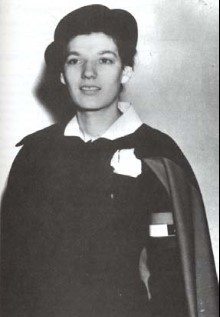 Jensky, Toby ("Tillie"); b. June 9, 1911, NYC; AMB; Single (married South African volunteer Jason Gurney in Spain); Nurse; Served with the Republican Medical Services, on Dr. Barsky's staff working with an Auto-chir; Returned to the US on May 9, 1938 aboard the Queen Mary; d. April 25, 1995, Sandisfield, Berkshire, Massachusetts, buried in Sandisfield Center Cemetery, Sandisfield, Berkshire County.
---
Source:
ALBA 055 Toby Jensky and Philip Schachter Papers; ALBA PHOTO 55 Toby Jensky Photographs; Find-a-Grave 71016924; Jo Labanyi, "Finding Emotions in the Archives,"
The Volunteer
, Volume 24, No. 2, June 2007, pp. 9-10, 14; (obituary) Frances Patai, "Toby Jensky,"
The Volunteer
, Volume 17, No. 2, Fall 1995, pp. 6-7. Code A
---
Biography
Jensky (1911-1995) was a nurse at New York City's Beth Israel Hospital in 1930s. When the Spanish Civil War broke out, the hospital became a center for the Medical Bureau to Aid Spanish Democracy. In 1937, Jensky went to Spain as a volunteer nurse and administrator with the American Medical Bureau. Jensky was not a member of any political party nor did she subscribe to any particular political belief. It appears that she went to Spain because the opportunity arose to join friends and colleagues in the medical unit being organized by Dr. Edward Barsky out of Beth Israel Hospital. Jensky worked at the American hospital in Villa Paz from April to December 1937 and on the Teruel Front in January and February of 1938. She worked in Villa Paz again in March 1938 before returning to the United States in April of that year. Upon her return Jensky resumed work at Beth Israel Hospital.-
Photograph
ALBA.; Bob Ingalls, by Richard Bermack.
---
Biography
courtesy of Tamiment Library, NYU.
---
lba-valb.org/wp-content/uploads/2019/12/Jensky-Toby-1986_Bermack.jpg" alt="" width="300" height="417" />