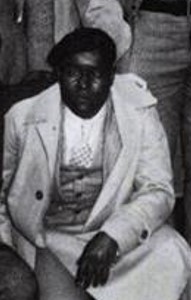 Biography
Brown, Thomas b. February 5, 1910, Wichita Falls, Texas; African American; POW; No prior military service; Single; Driver; CP 1932 unit organizer; Received Passport# 367927 on February 18, 1937 which listed his address as 817 North Second Street, East St. Louis, Illinois, (2939 Boston Avenue, St. Louis, Misouri; Sailed March 10, 1937 aboard the Washington; Arrived in Spain on April 2, 1937; Trained with the American Co. at Madrigueras; Briefly arrested June 25, 1937 for refusing to go to the front due to dental issues; Served with the XV BDE, Auto Park; Initially served as instructor at American Base; Later as a Driver; Captured during the Ebro Offensive; Exchanged April 22, 1939; Returned to the US May 6, 1939 aboard the President Harding; WWII US Army; d. August 1983.
---
Source: Sail; Scope of Soviet Activity; Cadre; Americans; Inventory North Americans; XV BDE; RGASPI Fond 545, Opis 6, Delo , ll. 158-868; African Americans; POW; Ancestry L-W. Code A
---
Biography Tom Brown was born in Wichita Falls, Texas, on February 5, 1910. He later moved to East St. Louis, Illinois. In 1932 he joined the Communist party, rising through the ranks to the position of unit organizer. On March 10, 1937, Brown left for France on the SS Washington. He arrived in Spain on April 2nd. Initially, he was assigned to the instruction company at the American Training Base in Tarazona de la Mancha and in June 1937 was transferred to the George Washington Battalion. He was later assigned as a truck driver in the XVth Brigade Auto Park. In mid June 1938, during the enemy's offensive toward the sea, Brown found himself behind enemy lines. He abandoned his truck and began to walk back to the Republican lines. Thinking that he was a Moor from Franco's North African army, Italian troops in the area allowed him to pass. He was near the Mediterranean before an enemy patrol, suspicious of his nationality, stopped him. He was imprisoned at San Pedro de Cardenas. On April 22, 1939, Brown was released along with seventy-one other American POWs and arrived in New York aboard the President Harding on May 6, 1939. During World War II, Brown joined the United States Army. It is believed that he may have died in an auto accident in the early 1950's while serving as a member of a Communist Party delegation to Jefferson City or Springfield, Missouri. Walter Cobbs, another African-American volunteer in the Spanish Civil War, may also have been involved in the same accident. - Chris Brooks
---
Photograph: Tom Brown from a group photograph taken aboard the President Harding.