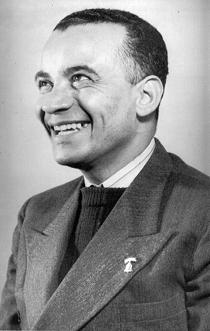 Biography
Díaz Collado, Tomás
(Callaco/Callado, Thomas; Crespo Galliano, Herman); b. Caney Oriente, Cuba; To the US 1924; Afro-Cuban; Father Tomas y Francisca; 4 years military school (Arteo y Oficios) in Havana, Cuba; December 1918 to March 28, 1924 in the Cuban Army, Rank Sub Officer of Artillery; Married; Building and Road Construction; Club Julio Mella 1933, joined CP in Spain January 1938; Domicile NYC; Sailed January 28, 1937 aboard the
Aquitania
; Arrived in Spain on February 7, 1937; Served with the XV BDE, Lincoln BN; Co. 2, Section 3, Group 2; Rank Soldado; Served at Jarama and Brunete; WIA Brunete at Villanueva de la Canada; In Hospital at Vich; Lost leg; Returned to the US on September 19, 1938 aboard the
DeGrasse
.
---
Biography:
Cuban-born Diaz Collado was among the first volunteers to leave from the United States to join the International Brigades. Before going to Spain, Diaz Collado had five years of military service and made his living working on road and building construction crews. On January 28, 1937 Diaz Collado sailed for Europe aboard the Aquitania. In Spain, Diaz Collado was assigned to the XVth Brigade. Due to complications following a serious leg wound suffered during the Brunete Offensive, he was hospitalized in Spain for over a year. He was repatriated to the United States aboard the De Grasse on September 19, 1938. In the United States, Diaz Collado underwent a series of operations in the futile attempt to save his leg. The Friends of the Abraham Lincoln Brigade paid for his medical expenses and posted a bond to the U.S. government since Diaz Collado was a registered alien. The
Volunteer for Liberty
listed Diaz Collado as Commander of the Spanish Speaking Post of the Veterans of the Abraham Lincoln Brigade. Before the end of World War II, Diaz Collado drifted away from his fellow veterans. It is believed that he returned to Cuba prior to 1950 although the Veterans of the Abraham Lincoln Brigade's office was unable to locate Diaz Collado when the government followed up on his case. The bond posted by the Friends was declared forfeit in 1952. ~ Chris Brooks
---
Source:
Lincoln; Americans; Voros-Jarama; RGASPI Fond 545, Opis 3, Delo 453, ll. 14 List of Irish and Cuban Comrades, June 20, 1937; Opis 6, Delo 588, ll. 2, 72; Opis 6, Delo 594; ll. 2 (under Gollado); Instituto de Historia de Cuba, Registro General, Personalidades Cubanas, Fichas de Datos de Combatientes Cubanos de la Guerra Civil Espanola, RG 4.12/2005 (113) notes "deceased after the war;" African American; Alfonso Bello and Pérez Díaz; SIDBRINT; L-W Tree Ancestry.
---
Photograph:
Thomas Callado, Veterans of the Abraham Lincoln Brigade Photograph Collection; ALBA Photo 15; Series I Photographs 1930s-1990s, Box 1, Folder 42. Tamiment Library/Robert F. Wagner Labor Archives. Elmer Holmes Bobst Library, 70 Washington Square South, New York, NY 10012, New York University Libraries; and in Spain Fond 545, Opis 6, Delo 588.
---