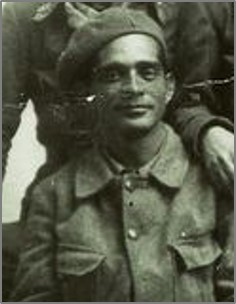 Biography
Domínguez Bienvenido, Victor (Bienvenido Dominguez); b. December 23, 1900, Cagaus, Puerto Rico; To NYC in the 1920s; Puerto Rican; Mother Paula Domínguez Delgado; Widower; Painter and Merchant Seaman; CP 1935; Received Passport# 545, Paris series, on January 31, 1938 (on the way home) which listed his address as 203-5 W 3rd Street, NYC, Florida; Sailed January 5, 1937, aboard the Champlain; Arrived in Spain on January 14, 1937; Served with the XV BDE, Lincoln BN, MG Co.; Served at Jarama and Brunete; Repatriated political; Returned to the US on February 16, 1938, aboard the Lafayette, listed his return address as 205 W 111th Street, NYC; WWII Merchant Marine; Killed when his ship was torpedoed, date unknown.
---
Source: Scope of Soviet Activity; RGASPI Fond 545, Opis 6, Delo 849, ll 20, List of American Comrades that have been Repatriated as per October 15 1937; Paul Burns to Adolph Ross, May 9, 1984; RGASPI, Fond 545, Opis 6, Delo 883 & 849; José Alejandro Ortiz Carrión and Teresita Torres Rivera, Voluntarios de la Libertad, Puertorriqueños en Defensa de la República Española 1936-1939; L-W Tree Ancestry. Code A
---
Photograph: Victor Dominguez Bienviendo from a group photograph. Photograph Harry Fisher.