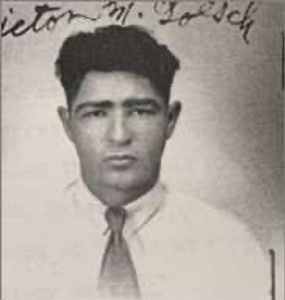 Biography
k-Loesch, Victor Michael. b.November 13, 1911, La Maure County, North Dakota; father Kaspar Peter Loesch (1875-1959), mother Helen (Streitz) Loesch (1882-1958); Mechanic; Received Passport# 33326, San Francisco series, on January 24, 1938 which listed his address as 315 South San Pedro Street, Los Angeles, California; Arrived in Spain via Agullana on February 16, 1938; Served with the XV BDE, Lincoln-Washington BN; Rank Soldado; Reported Killed in action, March 30, 1938, Gandesa, during the Retreats.
---
Siblings: brother Raymon Loesch (1908-1943), sisters Helen Loesch (1918-2002), Isabella Loesch (1927-1927).
---
Sources: Scope of Soviet Activity; Figueres List; USSDA 2:0729, 57:0090; BN 58 Retreats; L-W Tree Ancestry.
---
Photograph: Victor Michael Loesch, Passport Photograph, 1937.